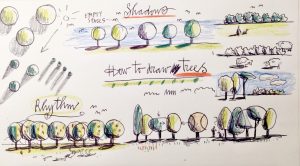 Everyone wants to be able to draw better and a good place to start is by drawing a tree.  A new WoodlandsTV film teaches you how to draw a tree, or actually how to draw groups of trees.
Michele Tranquillini is a rather brilliant Italian artist who has made this tree-drawing video especially for woodlandsTV.  He shows you how to convert a line of simple circles into a row of trees, by using shadow and colour.  I particularly liked the way he animates his drawing with some birds by writing the number 3 on its side.  He draws round trees but also tall Cypresses (as any good Italian would!), and using pebbles he shows how we can create more natural shapes to form our trees.  Michele explains rhythm, jagged lines, simple forms and soft zigzags, but most of all he's keen to make sure we practice, and keep practising.  A good time to do that is when you are on the phone.
WoodlandsTV is a youtube channel sponsored by woodlands.co.uk and has about 40,000 subscribers and produces films on woodland-related topics.  The library of over 200 films and has had over 10 million viewings and the "How to draw a tree"  is the first of a new series of films teaching you how to draw woodlands and trees.
You can see the tree-drawing film here:
---
---
Leave a comment