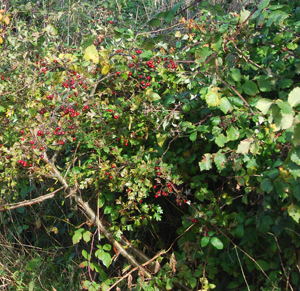 Hedges are an important part of our countryside, yet they are functional too.   The use of hedges goes back hundreds of years (perhaps more) and is an effective way to keep in livestock and mark boundaries.  They also have very important benefits for wildlife as they are home to many nesting birds, small mammals and many insects.   Apart from being a habitat they also provide a corridor for the movement of animals across field systems and between woodland areas.   Landowners need to maintain them but sometimes they get out of control (the hedges rather than the land owners) and once they reach over 4 metres in height they start to encroach upon fields and become "gappy" at the base.  It is at this point that they need to be laid - ideally by an experienced hedge layer.
The trees that do well in hedges are hawthorn, blackthorn, field maple, hazel oak, sycamore and ash as well as some other species.  Different species will require different techniques but broadly the approach is as described here and illustrated on woodlandstv.co.uk.  
We were lucky enough to film Neil Sands demonstrating and John Wilson explaining as they laid a badly overgrown hedge at the Weald Woodfair in East Sussex.  John has been a member of the South of England Hedge Laying Society for 25 years, since its founding.The Society has about 150 members and organises regular training sessions, competitions and demonstrations.
In the film,  they explain that this is not a summer activity: not only do the leaves become more of a problem but there is a risk to nesting birds.Like oysters, the right months for hedge laying have an "r" in the month (September to April, though usually finishing by March).
The process starts with removing the surplus material – twigs, old leaves, debris, brambles, rusty wire.     The stem to be laid needs to be selected and about a foot (30cm) off the ground it should be cut almost right through so that it can be bent over and laid at about 45 degrees.   Higher up, nearer the top of the hedge, the stem is then cut at an angle.   This stem is called a "pleacher" and it is these pleachers which will grow back vigorously with vertical shoots making the hedge livestock-proof.In the Midlands hedge laying is called "plashing" and the French call it "plaisse".
Stakes are driven in vertically at 18 inch intervals in the centre line of the hedge.  The binders are woven between the stakes with ends wedged behind the stakes.  Both the stakes and binders are usually from hazel.  The final height of the hedge is about 4ft and the stakes will be trimmed off to the same height to give an extremely tidy finish.   
Tools needed are: a billhook, a small axe, a small chainsaw (perhaps, and if you are qualified to use it), wire cutters, thick gloves going over the wrists and a sharpening stone.  A first aid kit is needed too – even when things go well this can be something of a "blood sport"!
Materials: you will need stakes for the verticals, which should be sturdy enough to hammer in, about 5 ft 6 ins high and about 2ins in diameter (ie about 1.7metres by 50mm).  For the horizontals you need much longer and more flexible poles called "binders" which should be about 10ft long and about 1½ ins in thickness (ie about 3 metres by 40mm).
If you are the owner of a woodland, you might have an overgrown hedge which needs laying.  If you get it done by a contractor it should cost a little under £10 per linear metre including materials.  A good hedge layer in the right conditions might lay 20-25 metres in a day.  
It is possible to get a recommendation from one of the organisations connected with hedge laying or, better still, you can try it yourself.  There are a lot of hedge laying courses available that can be found by typing "hedge laying course" into a search engine.Interestingly they all seem to happen on Saturdays in the winter with a typical course taking three Saturdays in succession.
Although hedges are now well protected and you need permission to remove one or even create a gap in one, they haven't always been officially appreciated.  Until the 1970s, the government paid grants for their removal, arguing that larger fields were more efficient and essential to justify the new and larger tractors.  Nowadays, however, new hedges are encouraged and grants are available for planting, but of course this increases the need for maintenance – hence, the need for more hedge layers.
Driving (or even cycling) around the countryside you will be surprised how many recently laid hedges there are once you are on the lookout for them.  You may also start to spot those in need of attention and the billhook.
What's your experience with hedges and hedge laying?
---
---
Leave a comment