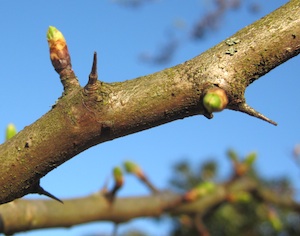 A hedge becomes a hedgerow when it includes other features within it; such as trees or a wall, fence or gate. At some point (after the last Ice Age), most of the UK was covered with woodland of one form or another. Hedgerows can represent a link with woodlands that have been lost. Hedges often mark out woodland edges even when the woodlands have long since gone.  In some parts of the country, hedges and hedgerows are the only natural or non-crop habitat available to mammals, birds, insects and other animals.
The most common shrubby species found in hedges are hawthorn and blackthorn though hedges / hedgerows may have tree species. This can be the result of frequent trimming or the extensive/intensive use of herbicides.
The number of herbaceous or non-woody plants found in hedgerows next to agricultural land is often low - its biodiversity (the number of species and number of plants present) is low.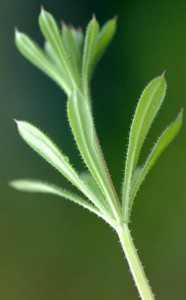 Hedgerows next to arable land often contain species such as:
Nettle;
Oat grass;
Creeping thistle;
Giant Hogweed;
Meadow grass;
Bindweed;
Cleavers or Goosegrass.
Farmers tend to regard such hedgerows as a source of weeds, which may invade their crops. Sadly, the use of herbicides and the application of fertilisers near to the hedge tends to further encourage the growth of these aggressive species. A different approach is the practice adopted by some of having wider field margins; which if kept mown prevent the germination and growth of unwanted species.
Hedgerow plants offer habitats for many species of insects – from butterflies to bumble bees & hoverflies. Depending on the management of the hedgerow or hedge or rather the lack of it, the hedge can offer a home to various bird species, though they tend to like trees and tall hedgerows. Generally speaking, a hedge that is 4m high will offer a home to twice as many birds as one that is 2m high.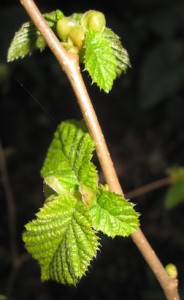 Hedges diminish in value to wildlife if there is:
Regular annual trimming or flailing of the hedge;
Herbicide treatment at the base of the hedge.
Birds tend to prefer old, somewhat overgrown hedges that have not been intensively managed. Small mammals like shrews and voles use hedges as a habitat, exploiting the adjacent fields (for food) when the crop has grown enough to provide them with cover. Similarly, amphibians may find places for hibernation in the damp ditches often associated with hedges; whilst banks may provide opportunities for reptiles.
The second half of the 20th century saw a dramatic loss of hedges and hedgerows either through their systematic removal or neglect (the latter partly through the loss of traditional skills, such as layering etc). Many hedgerows are managed by trimming with a mechanical flail. If this is done annually, it can result in a loss of biodiversity. DEFRA has now issued guidelines on the management of hedges. For example, it is suggested that trimming should be done on a 2 or 3 year cycle; and some sections of the hedge might be left for longer (see here for example).  The Government has seen fit to enact legislation to protect hedgerows of key importance and the UK Biodiversity Action Plan seeks to halt the loss of ancient and species-rich hedgerows.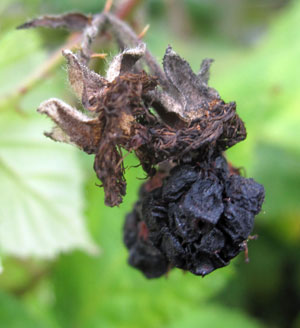 Biodiversity Action Plan see:
http://www.ukbap.org.uk/UKPlans.aspx?ID=7#4
http://www.defra.gov.uk/farm/conservation/hedgerows.htm
http://www.defra.gov.uk/wildlife-countryside/response/fieldb/index.htm
A hedgelayer's site may be found at:
http://www.hedgelayer.freeserve.co.uk/
Information on hedgerow maintenance etc:
http://www.hedgelaying.org.uk/
For more information on hedges and their history:
http://www.woodland-trust.org.uk/campaigns/briefingsmore/hedges.htm
---
Comments are closed for this post.
---