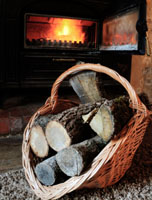 Hardwoods are the traditional choice for log-burning stoves and fires but increasingly people are seeing the advantages of burning softwoods.  Softwoods have a lot going for them in that they are:
more readily available
cheaper, though being more bulky you have to compare carefully  the transport costs
they take much less time to season (dry out), typically 6 months rather than the two years needed for hardwoods.
Whilst softwoods are lighter, their calorific value (how much heat they give off) is generally the same as that of hardwoods on a weight for weight basis.  All current log-fuel burning equipment works well with either hardwood or softwood logs, or a mixture.
This is good news for many owners of small woodlands because very often for management reasons you will want to take out softwoods planted in the 1960s and 1970s or simply thin them out.  It is often hard to find a good market for such timber (especially lodgepole pine and spruce) so being able to use it for firewood can be a great help.  Prices of all firewood have been rising over the last couple of years and, because it is a retails market, it is less susceptible to swings in prices.  Of course if you are using firewood form your own woodland you are immune to changes in market prices.
Demand for firewood is currently growing rapidly, illustrated by the fact that domestic demand for wood-burning stoves in 2009 is said to be 50% above the level of 2008.
In terms of drying out, the moisture content of log fuel should be 20% or less.  If you burn wetter material there are various risks - it can corrode equipment and the chimney and lead to reduced heat output .  If you have a stove it may be worth getting a meter for checking how dry your logs are.  There is a selection of these meters available on Amazon which range in cost from £25 to £65.   One UK source of moisture meters is stovesonline.co.uk where meters cost about £32:
Leave a comment
Subscribe to our blog email updates
Managing Your Woodland for Wildlife
A new book on encouraging biodiversity in your woodland. Available free here »