You can usually jog round your woodland but this doesn't give you all the exercise you might want, so you could create a trail with different exercises at each stop. These are popular in woodlands in Switzerland, France and Germany. At each stop you might do pull ups on a bar, or balance along a stabilised log or jump along a set of steps at different heights.
At first such outdoor gymnastics might seem a like a childish pursuit more suited to the playground than a woodland, but there's a lot more to these fitness trails than you'd think. People take them very seriously and if you think of how much people pay to go to their gyms, this is like a giant free outdoor gym. People using these exercise trails say they like doing their exercises in harmony with nature.
These pictures are of a community "forest parcoursvita" in Switzerland which is sponsored by a large financial organisation (Zurich). This is an all-weather exercise trail open to anyone and the paths in between each stop are covered with wood chippings to stop them getting muddy. There are a dozen or so different exercise points and some people do two or even three circuits - at each stopping point there is a diagram and text telling those exercising what they are supposed to do to make the most of the open space, bars, ropes and logs.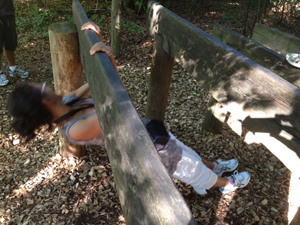 If you build an exercise trail you will probably want to put the stopping points under trees rather than in open glades - otherwise you will have a major job to clear back undergrowth each year. Also, if possible, you will probably put the exercise points where there is a good view of the woodland or even of the surrounding countryside.
In the UK there has recently been rapid growth in "Go Ape" type fitness circuits and the Forestry Commission have encouraged such activities in their woodlands. There are 28 of these centres around the UK and a session at one of these costs between £20 and £30, depending on age. Although it's exciting, they are are a major departure from traditional fitness trails such as the continental forest parcours. These simpler exercise routes don't require nearly so much investment, are free to use and are based around exercising on the forest floor.
---
---
Comments are closed for this post.
---