Most woody people hate Rhododendron in woodlands, but Chris Colvill  has found a really good use for it.  He loves marble runs so he made this very big one using wood from rhododendrons. The stems are very twisty which is exactly what you need for a marble run like this. To get the skills to construct this work of art, Chris studied furniture making for three years at Chichester college and he's now made lots of different marble runs for all sorts of locations: "I do sell them but mainly I rent them out for events" says Chris. "People seem to love them."
Setting up the marble run is very involved as he has to make sure the marbles don't stop half way down and also to ensure that most of them don't drop off on the way down. The set-up of a marble run like this takes about 2-3 days for two people.  Another twist that Chris has introduced is putting forks in the slots so that you can't be sure which direction the marbles will go.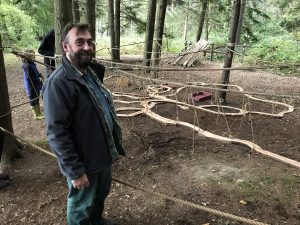 Children are captivated even though they have much less input than they would by playing pinball, for example.  The players' input is really just the launch of the marbles at the beginning, but they also usually run round the run guessing which way the marbles will go.  According to Chris, marbles are not uniform in size and shape and their variations can determine which way they roll, and this is also affected by the length of the ropes and exact shape of the wood as well as the temperature and humidity.  "It could be seen as a giant barometer."
Marble runs like this require lots of careful preparation and Chris cuts the sections of Rhododendron and slices them before seasoning them, usually for two years. Then he planes the tops, cuts the ends, routers the slots for the marbles and drills holes for joining dowels and for hanging the sections.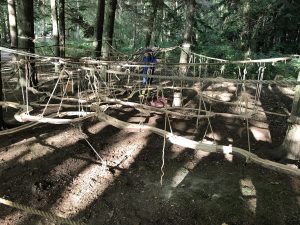 "The most unusual run I've set was at the theatre Royal, Drury Lane, which was in the shape of a Christmas tree.  It was set up so that to follow your marble you had to move - which kept the crowd flowing.  We set it up so that the marbles clattered as they fell out at the end and this drew in hundreds more marble-runners. Initially I was inspired my my daughter, who is now 17, but when she was little she loved playing with marble runs - the classic ones are those you can clip together, but this wooden customised marble run seems far more popular."  You can see more of Chris' work at www.twistingspace.com
---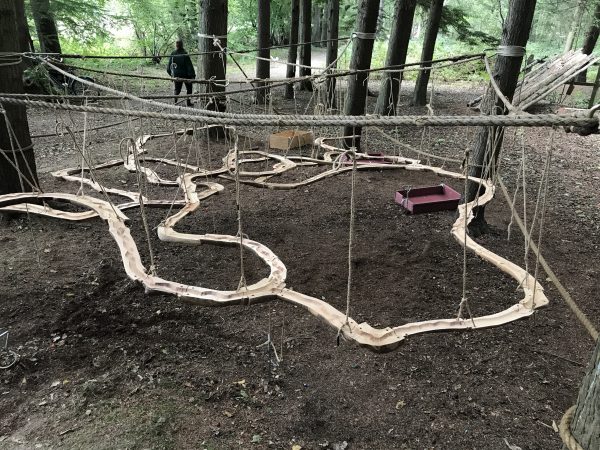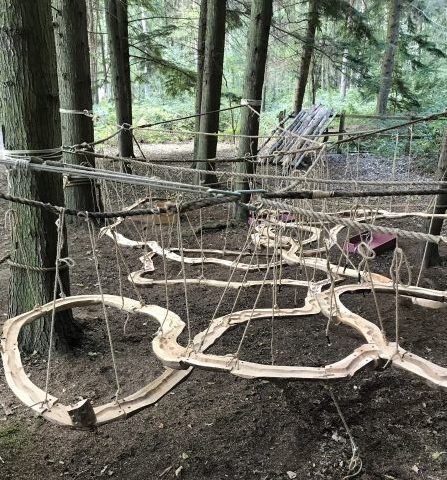 ---
Leave a comment
Subscribe to our blog email updates
Managing Your Woodland for Wildlife
A new book on encouraging biodiversity in your woodland. Available free here »