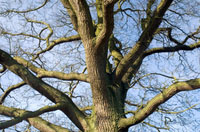 Novice wood owners, Gordon and Enid Chambers, give their first impressions. After they'd finally "moved in", did it live up to expectations?....  
At the age of 70, where did the idea of owning a wood come from?   Was it from a childhood with huge walnut trees and an orchard in the garden, or  a lifetime of  fiddling with wood and woodturning for charity?  Or just a love of trees?  Or years of hunting for timber to feed our hungry woodburner?   All of that, plus a desire to help save the planet and to have a safe investment to leave for the children.  
The Woodlands.co.uk website did the rest and we soon found ourselves owning ten acres of mature mixed woodland in an area of outstanding beauty. We were pleased to discover we can park the caravan for 28 nights a year and spend endless days just going to the woods, yet we can still leave them for weeks on end if need be, since they have already survived 50 years without our help! 
Any of the above reasons for owning a wood could justify taking the plunge, but the first few weeks have shown that we have fulfilled all of those aims and more.  Like seeing deer at close quarters, hearing buzzards, seeing tiny birds flitting from branch to branch and glimpsing the occasional rabbit, hare or squirrel  and wondering how many badgers inhabit the many setts.  Wonderful to see new forms of wildlife like the larch wasp  - not quite so wonderful, but intriguing, to know which other insect made that irritating lump! 
Since our wood consists of 50-year old Douglas fir and Norway spruce, with small stands of older sweet chestnut and oak, plus a few large beech, the early weeks have meant much exploring and giving thought to which trees can be thinned to allow the best ones to flourish, especially the oaks in the middle of the wood.  How we bless the Forestry Commission planters who left some deciduous trees, rather than just regarding the cash crop as all that mattered. 
Most work so far has consisted of clearing winding paths and removing the stumps left from previous thinning so that older visitors can walk through safely and our tiny tractor can make its way through to clear rubbish and haul timber.    Much of the earlier trimmings (brashings) and some fallen trees may be left to encourage the abundant wildlife  which is part of  the constant delight of discovery – as is seeing shafts of sunlight giving trees ever changing appearance and turning the mosses and lichens into almost magical colours.  
Early on we constructed two stone tracks, held and levelled with concrete, (using limestone just collected from the wood itself of course!) so that we can drive the caravan straight from the old woodland track we share with three other owners.  Water was our next concern.    Imagine our delight to find that at the foot of a steep slope is a large cistern which provides drinking-quality water for a neighbouring farm,  but overflows profusely . 
What have we learned in these first months?   To be really sure a wood is practical, not too far  from home to enjoy and supervise, and not bigger than we can cope with; to recognise that, either there will be a lot of hard work, or be prepared to spend to get the  work done, which would partly defeat the object of ownership;  to leave sufficient resources after purchase to obtain essential tools or machinery, especially if one is older; to make contact with neighbouring owners and farmers, who can be surprisingly welcoming and helpful – our first caller was a local farmer who wanted to buy some chestnut for fencing !   Our solution was to offer him a 50 foot limb from one of our chestnuts, in return for him arranging for some of our conifers to be thinned . But most of all the first weeks have underlined that we can anticipate  years of surprise and pleasure from the trees, the area and the wildlife, all without damaging our precious God-given environment.   The biggest surprise has been how much freedom the wood owner has to make it a place of delight for the moment and a precious inheritance for the future.
---
---
Leave a comment