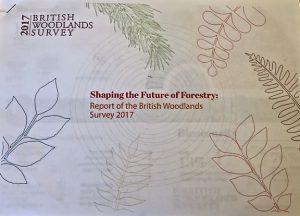 Gabriel Hemery of Sylva.org.uk is a researcher and entrepreneur in the British Woodlands sector.  He just announced the results of his British Woodlands Survey 2017 (BWS) where he asked hundreds of woodland owners how they see the future of their woods.  The survey covered 1.5 million acres of woodland - about a fifth of the UK wooded area and included forestry agents as well as 660 owners and looked at biodiversity, biosecurity, social attitudes and woodland creation.  The report is entitled, "Shaping the Future of Forestry".
Most striking was that the majority of owners and agents reported making a financial loss on their woodland over the last five years.  However, a large majority (seven out of eight) considered that their land was providing valuable ecosystem services.  Many woodland owners feel they are somewhat managing "on their own" and many were interested in belonging to some form of cooperative.  For many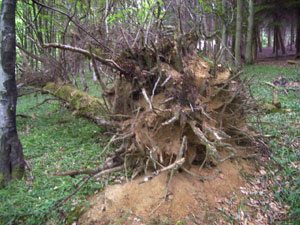 owners climate change is an acute issue and the survey found that three quarters of owners are strongly motivated to diversify tree species for biodiversity and for forest health.  Those who didn't want to diversify were concerned about loss of timber yield.  A large majority of the people that Gabriel Hemery and his team surveyed had, over the last five years, seen pathogen damage in their woodlands and about half had seen damage by vertebrates.  In coping with disease, owners are very aware of the issue when they buy planting stock but subsequently are fairly unlikely to take biosecurity measures for disinfecting facilities (only about 13% do so).
Sylva has always been about getting owners to participate and collaborate so it was encouraging that the British Woodlands Survey found that a third of English owners were keen to contribute to future forestry strategy and Wales stood out as an area where there has been a big increase in the number of owners wanting to collaborate to share profits.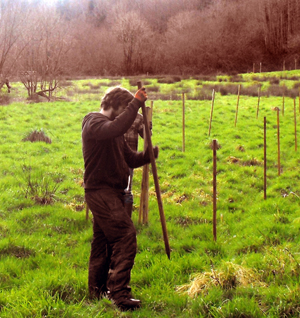 The survey also found that professionals and businesses in the sector feel well represented by Confor and the Institute of Chartered Foresters.  Planting new trees was not high on owners' priorities - 57% hadn't planted any new trees in the last 5 years and of those that have done so most were simply restocking - replacing felled areas of woodland.   There was a general view amongst woodland owners - as well as tree nurseries - that the main driver for planting is grant aid.
One criticism that emerged from Sylva's British Woodlands Survey is that policy in this area is geared too much towards large-scale commercial forestry and not the needs of small woodland owners.  It seems that the forestry world is only just beginning to wake up to the rising importance of non-paid forestry workers.  Volunteers are the dominant element of the sector nowadays with almost 2,000 voluntary workers being reported by woodland owners plus about another 900 workers who are either owners or family and friends, whereas paid staff including full and part timers are fewer than 1,000 (for the woods included in the survey).  That means that roughly three quarters of workers in the sector appear to be unpaid.  So it seems likely that it will be the owners of smaller woodlands and volunteers who will be increasingly "shaping the future of forestry".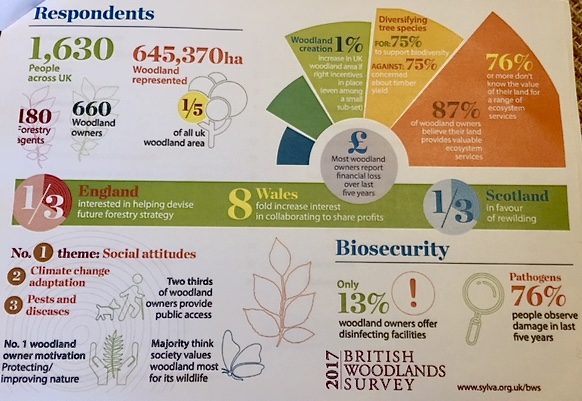 ---
---
Leave a comment