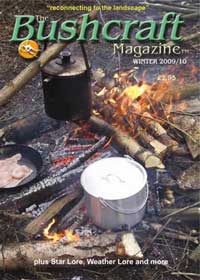 Huw Woodman is a man with a mission - to "reconnect to the landscape" and that is the strapline of The Bushcraft Magazine. He has been publishing it, together with editor Steve Kirk, for almost 5 years and it has really become very well known within both the bushcraft and woodlands worlds.  But whilst Huw is concerned about sustainability in general he is concerned in particular about the sustainablity of his magazine.  "Many magazines are losing money at the moment," says Huw pointing out that until very recently there were three magazines aimed at this market and one has gone bust whilst the other is losing money.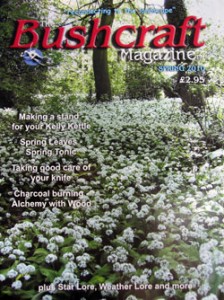 The magazine also runs taster courses from its base in Egerton, near Ashford, Kent. The team also organises a May Bank holiday event and this year they attracted 150 people to camp and take part in a Spring festival.  The bushcrafters shared skills and stories and saw demonstrations, which included: animal tracking and green woodworking during the day and by night they did star-gazing and storytelling.
Bushcraft Magazine comes out seasonally – four times a year – and costs £14 pa to subscribe which includes postage and packing.  There is a complimentary website which includes tutorials, a blog and a forum.  Sarah Beecham and Paul Bradley ("Bardster") have been making the website much more interactive bringing it "out of the 18th century" according to Huw.
Neither the magazine nor the website is limited to writing about woodland activities – they have articles on hedgerow medicine, weather lore, ancient technologies, uses for dandelions (including tea and wine) and foraging.
Visit their website at www.bushcraft-magazine.co.uk and see how much they cover – Huw says it takes you from "Arrow to Yarrow" which is the nearest he could get to A-Z!  If you buy or have bought a woodland through us you can get your first year's subscription free.
Leave a comment
Subscribe to our blog email updates
Managing Your Woodland for Wildlife
A new book on encouraging biodiversity in your woodland. Available free here »