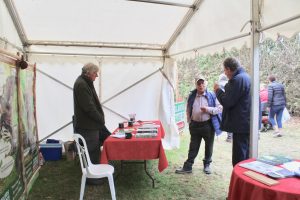 This weekend all woodland lovers within reach should try to make time to visit Fish Pond Copse in the Cranleigh Showground (GU6 7DW) for what will be one of the year's best woodland events.  It's from 10am to 5pm on Saturday and Sunday.  Despite possible rain (bring boots!) these events are a great way to meet fellow enthusiasts and learn more about British woodlands.  My colleague who came with me to the Wilderness Gathering a couple of months ago said, "We were drenched but it brought out the survivalist in me and I made some great contacts."
There will be tree climbing, archery, fire-making and chainsaw demos.  For foodies like me,  there is apple pressing, outdoor cookery and a range of food tents.  The full programme can be accessed here : https://www.surreyhills.org/events/the-2019-surrey-hills-wood-fair/ Children under 12 go free but for adults the cost is only £10 each.  Prices are kept down because the organiser, the Surrey Hills Society, is a charity run by volunteers.  The Surrey Hill Society promote enjoyment of the Surrey Hills Area of Outstanding Natural Beauty.
You can find out about woodland ownership and meet existing owners on our woodlands.co.uk stand in the large field at the fair.  We'll have details of our woods for sale and you can meet Ruth Feltham, Simon, Richard, Margaret and me, Angus.   On Saturday you can also meet Julian Evans, an engaging, retired forestry professor, who wrote the book "Getting Started in Your Own Woodland".  Richard Hare from swog.org.uk is part of the team and will be on hand to discuss all aspects of small woodland ownership.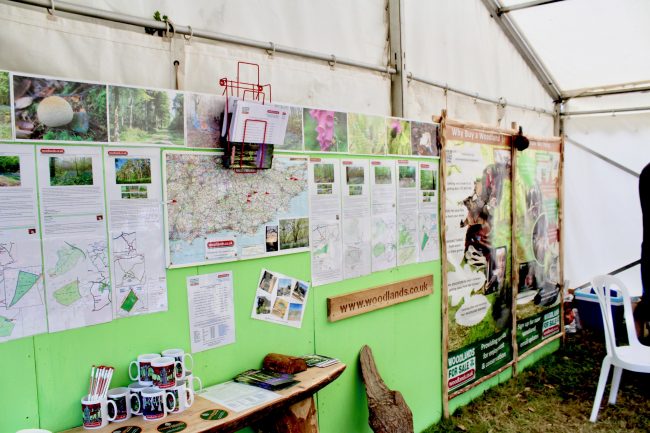 Over the last two years, the Weald Wood Fair at Bentley  (near Lewes) has faded, and at one point we were told that it was dead, though it may recover.  The mantle may now been taken by two much newer wood fairs - this weekend's Surrey Hills Wood Fair at Cranleigh in Surrey, and the recent Belmont Woodfair near Faversham in Kent.  Both are lively and enterprising - possibly Surrey Hills will become the new "Mecca" for Woodland people in the South East.
Come and judge for yourself!
---
The woodlands.co.uk team go to several woodfairs each year: https://www.woodlands.co.uk/about-us/woodfairs/
Leave a comment
Subscribe to our blog email updates
Managing Your Woodland for Wildlife
A new book on encouraging biodiversity in your woodland. Available free here »