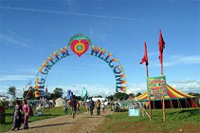 Wednesday 2nd – Sunday 6th August are the dates for Europe's biggest Green Gathering which takes place at Fernhill Farm on the Mendip Hills in North Somerset close to Bristol.
The Big Green Gathering lasts for 5 days and is a camping event. It grew out of the original Green Gatherings of the 1980's, as well as the Green Fields of Glastonbury Music Festival. The Gathering developed organically in response to people's desire within the green movement for a festival focused mainly on Green issues. There are between 15,000 and 20,000 people who are expected to come to this year's gathering. Electricity for all the stalls, venues, and exhibits is produced on-site from sustainable sources: the wind, sun and human pedal power.
The Big Green Gathering is for anyone who cares about health, sustainability, the environment, our kid's futures and life in general. It is a celebration of everything in our natural world and our place within it. As such it is a place for enjoyment, fun and learning.
The food and farming part of the Big Green Gathering is in its third year. You can minimise the 'food miles' in the food you eat onsite as the produce is local, coming from Fernhill and surrounding farms and businesses. Again this year the festival will be a source of good food in the form of both a farmers market and farmhouse kitchen, supplying to individuals a huge variety of fresh seasonal produce - some ready to eat and some raw which you have to prepare yourself.
The Fernhill farm produces beef (Aberdeen Angus), and mutton (Shetland Mutton) and pork of various sorts (Saddleback and Kune kune), reared in the highest standard of welfare. You can sample roasts, stews and sausages at the farm shop. To complement these dishes "Linda the Loaf" will be coming back making bread and running workshops where you can knead the dough and watch it rise. You can also smell the bread baking in a brick oven. There will be a mobile shop (a horse and carriage) which will sell delicacies around the site such as ice-cream and honey. You shouldn't miss out on your chance to try some local beers and ciders!
The site will be divided into different areas so that in the Entertainment field you can listen to performances from a vast range of musicians and entertainers. This area also features cyber cafes and satellite internet communications which are run on renewable energy supplies, and three digital video cinemas. In these cinemas there will be grass-roots films and alternative films which have had only minimal showings in the large cinema chains.
In the Central Field there are markets, green traders and stalls plus the Festival Radio station which will try to announce all the daily happenings.
The Village Green is the children's and teen's area including a Fairground -rather like the ones from yesteryear before generators were available (or needed).
One of the most interesting areas will be the field for Practical Green Living with its demonstrations of green crafts, sustainable building techniques, permaculture and demonstrations of bio-fuel.
If it all gets a bit much you can take time to visit the Healing field where you will find therapies and remedies to relax and soothe.
I'll be camping in the quiet field next door so come and find me (Andy Sims) and say hello!
For more info and tickets (day tickets are available for the Saturday and Sunday) visit the event's website www.big-green-gathering.com.
Leave a comment
Subscribe to our blog email updates
Managing Your Woodland for Wildlife
A new book on encouraging biodiversity in your woodland. Available free here »