Last weekend I employed Matt Waller and Roy (the horse) as horseloggers to help extract oak boards which we had milled in a Hertfordshire woodland using an Alaskan chainsaw.  The opportunity arose because the manager of the wood had felled a few of the oaks so that he could grow more hazel coppice.  We were part of a trend towards keeping traditional skills alive - horselogging in the UK almost died out in the 1960s and 1970s, but it was saved by enthusiasts and is now becoming quite popular.
Getting timber out of your wood like this creates much less compaction of the soil and avoids creating tractor ruts in the woodland floor.  It's also possible to use extraction by horse on steep slopes which machinery can't manage, and it's much more environmentally friendly, with waste products being recycled into the wood itself and there's no carbon footprint apart from getting the horse to the site in a horsebox.  It's also fun to have a horse onsite.
Roy, who is six years old with a life expectancy of about 20, is a pedigree Suffolk Punch.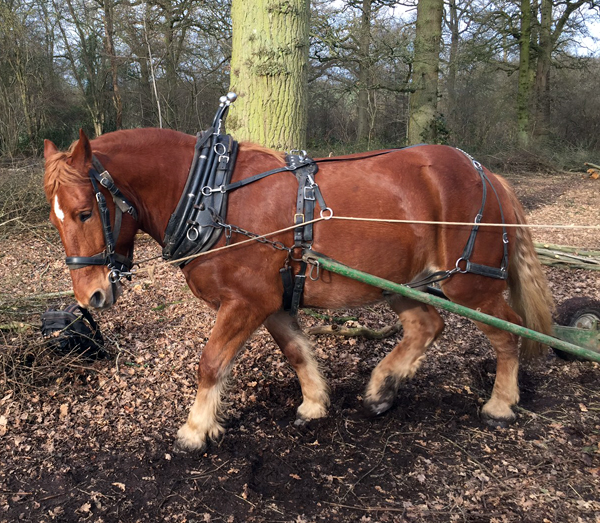 This is Britain's oldest pedigree horse and goes back to the 17th century.  At its peak there would have been tens of thousands of these working the farms and woodlands across the country - large numbers went out to France in the First World War never to return, and after that numbers progressively reduced as the tractor took over heavy tasks.   At one point the number of Suffolks dropped below 250 and there was a very real risk of the Suffolk Punch becoming extinct.  In recent years there has been a revival and there are now 500 of these horses in the UK and numbers are rising slowly.
We found that the process of extraction was very efficient because while we were loading the oak boards Roy would be feeding on hay or oats.  He has also developed an efficient working relationship with his owner, so that Matt knows when Roy needs a rest or when he is struggling with anything.  Roy, in turn, understands a range of commands and trusts Matt to lead him safely around the woodland.  Using a cart with wide, light pneumatic wheels means that quite heavy loads can be pulled across soft ground and out of the wood.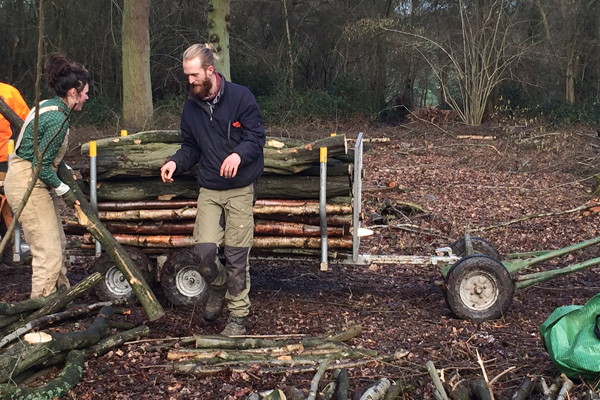 Matt is almost fully employed with his horselogging business and apart from helping owners to extract timber and wood for charcoal making, he also does demonstrations at the various county shows and several summer events.  We paid £250 for a long day's horselogging and would certainly recommend working with Matt and Roy.  You can see his stuff at www.hawthornheavyhorses.co.uk.  Matt is active in the British Horselogers Association whose motto is, "Keepers of the art of low impact extraction systems" and whose patron is Prince Charles.
---
---
Leave a comment