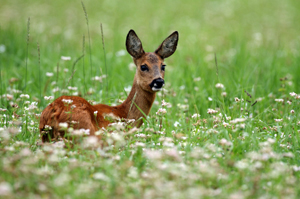 The UK's rapidly growing deer population is causing problems for the managers of woodlands of all sizes. The Deer Stalking Certificate Level 1 is a four-day course about how a deer population can be managed.  Teaching ranges from lectures on deer biology and diseases to rifle safety and marksmanship.
The course I went on at Alice Holt Forest, in Hampshire, was run by Steve Wooley, a veteran stalker who has worked as a gamekeeper on a Scottish estate for 25 years - looking after a 'patch' of Forestry Commission land - being 10,000 acres of land.
All four days were fast-paced, so it was essential to have previously studied the manual which was sent out before the course started. However, it isn't all theory: one day Steve turned up with a deer he'd shot that morning and "gralloched" it in front of us to show us how to check for signs of disease.  Gralloching is basically gutting, checking and preparing the deer carcass. Antlers were often passed around the classroom when learning how to differentiate between the six deer species found in the UK, and the final day consisted of a practical shooting and safety test on a nearby firing range.
Although there wasn't much diversity in the participants on my course, Steve assured me that he regularly teaches both men and women. The experience of my course-mates was wide ranging: a couple of people had never stalked before and others had been out regularly as children, from the moment that they could walk. Most of us fell somewhere in the middle - occasionals who wanted to know more and have a useful qualification. Reasons for doing the course varied from woodland owners and farmers interested in deer management on their own land to people hoping to sell their surplus venison to game dealers, for which the Level 1 certificate is essential.
In order to gain the course certification successfully there is a multi-part assessment, consisting of 50 written questions, a 20 slide visual deer identification test, a safety assessment, a practical marksmanship test, and a meat hygiene review. This may sound a little daunting, but my course was taught in such a way that learning to differentiate between the different species' coats and teeth was totally engaging.
These courses are regularly run all over the UK by BASC, the largest of the training providers .
Woodlands.co.uk pays up to £300 for buyers of their woodlands to go on a course with the aim of helping owners to enjoy and manage their woodlands better. At £290, this course provides a thorough introduction to all major aspects of deer management. Even if you're not keen to get your hands covered in blood, it provides the small woodland owner with a better understanding of the deer that may inhabit their woodland and the problems that they can cause.
---
---
Leave a comment