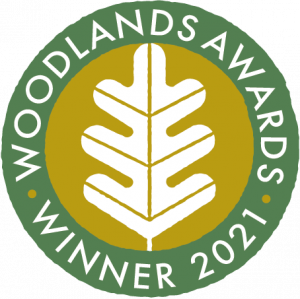 Get your competitive juices flowing and you could win a prize! Or nominate a worthy winner and they could be surprised with a prize – and recognition!
The Woodlands Awards (sponsored by Woodlands.co.uk) are back for the fifth consecutive year, and are open for entries now. Certainly don't delay too long: the deadline for all entries is 31 July 2021.
There are 14 categories of Awards for 2021 – with a few changes from previous years (see the full list below). This year we are introducing two new categories: Best Makers in Wood Award (designed to celebrate the best of woodland-related craft work: furniture, turning, jewellery, sculpture, spoons, toys, ornaments and more), and Best Woodland Toilets (the focus of much thought and endeavour!)
A guiding principle of the Awards has always been that they should be easy to enter. And the overarching intention: to spotlight and celebrate the hard work, artistry, knowledge and enterprise invested in British woodlands.
Every category can have multiple winners (there were 40 winners in 2020). All winning entries are considered to be of equally high merit (i.e. they are not "podiumed" into First, Second, Third etc).
What can you win? Well, the prizes vary according to the category: all winners receive a certificate, and many winners also receive a selected woodland book (one of the winning Woodland Books of the Year) and a woodland hand tool and/or piece of equipment (in 2020 this included a Classic Stanley Bottle (vacuum flask) and Spear & Jackson Ratchet Secateurs and sharpener).
"Happy New Year!" declared one delighted winner of a 2020 Award. "And what a happy start to the year – your parcel has arrived. Thank you so much for the wonderful selection of gifts, including a couple of things that were on my wish list, which I didn't get for Christmas, and thought I would have to save up to buy myself."
And another: "I've now received a box of prizes and a certificate. Sometimes these kinds of things are token gestures, but in this case they are generous and genuinely useful."
And another: "Wow, what an amazing honour! Thank you so much for the recognition. I am delighted… Prizes received with thanks. I really appreciate it and am feeling quite pleased with myself."
Full details about the Awards, the prizes, and how to enter, can be found on the website page: www.woodlands.co.uk/woodlands-awards 
For details of past winners, 2017–2020, with brief descriptions of their achievements, go to the Woodlands.co.uk home page, click on the "Resources" tab, and the select "Awards".
A note to past winners: the competition rules say that winners cannot win an award in the same category for a second time, but there is nothing to stop you entering (or being entered) in another category.
If you have any queries, please email [email protected]
Woodlands Awards 2021: the categories
Awards for individuals
Small Woodland Websites
Woodland Photography
Woodland Instagrams
Makers in Wood 
Woodland Tool Recommendations
Woodland Huts
Woodland Toilets 
Awards for enterprises
Woodland Contractors
Woodland Tree-Planting Projects
Forest Schools
Woodland Courses
Community Woods
Woodland Books of the Year
Regional and National Woodland Organisations
---
---
---
Leave a comment