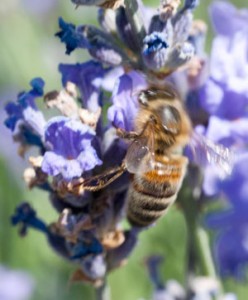 Further to the woodlands post about 'bees and weather', the British Beekeepers Association has announced that honey yields from hives are substantially down.  The average annual yield per hive is about 13.6 Kg but this year the figure is averaging 3.6 Kg per hive  – down by over 70%.   The worst results were for the London hives, where the figure was down to 2.5 Kg / hive.
Most beekeepers have attributed this fall to the (wet) weather.  Bees had a poor start to the year as the poor weather this Spring (April onwards) limited the bees foraging - for early crops, such as oil seed rape.  The rain was also a feature of early summer - June and July, for much of the country.
Apart from the effect on honey production, it is likely that the breeding cycle will have been impaired.  Queens mate on the wing on still, warm summer's days;  and there have been few of these - this will affect the viability of colonies / hives in the winter months.
The low yield from London hives has been attributed partly to the weather, but also the lack of forage / food in the cityscape – there needs to be more flowers, more green roofs where the bees can find nectar and pollen.
Note from the BBK website "The BBKA runs a scheme, which enables people to become 'armchair beekeepers' and follow the operations of a local beekeeper to raise funds for applied research projects to help protect the honey bee."  
The BBK also has a number of 'stocking filler' gifts :  http://www.bbka.org.uk/shop/product_category/stocking-fillers/
Leave a comment
Subscribe to our blog email updates
Managing Your Woodland for Wildlife
A new book on encouraging biodiversity in your woodland. Available free here »