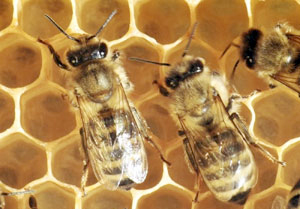 Bees are important pollinators, especially for crops like apples.  The UK apple market is estimated at some £320 M per annum.
Though current estimates vary, it is pretty much certain that this year's apple harvest will be down, perhaps only 50% of that of a 'normal' year.  Though the trees produced blossom in plenty and all looked good for a 'bumper harvest' – it then rained and rained.
Because of the weather, there were few bees, bumblebees or other pollinating insects.   This has not been a good year for bees (or indeed, bumblebees).   Why?
Bees cannot forage in heavy rain
The rain fills the flowers with water – so that bees cannot acces the nectar or the flower
Flooding has destroyed hives and nests
Low temperatures and rain affect the breeding behaviour of the queens – who need sun, warmth and still (preferably little or no wind) to 'encourage' them to leave the hives / nests and mate
The lack of foraging / honey production will probably affect the ability of the colonies to survive the winter and begin breeding next Spring.
Bees have been affected by parasites such as varroa and nosema, and pesticides such as the neonicotinoids, how their numbers / hives will been affected by the recent weather remains to be seen.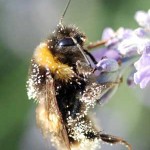 The weather that we have experienced this Spring and Summer has been linked by some to a rise in the temperature of the world's oceans.  The temperature of the Atlantic (where most of the weather systems that affect Europe form) has risen by some 0.5oC.  This represents an enormous heat store that may have changed the ocean currents and weather patterns.
---
---
Leave a comment