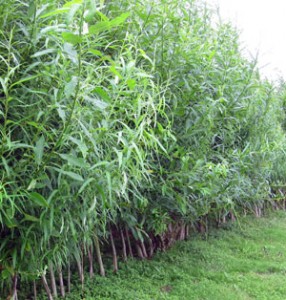 The growing and coppicing of willow involves planting fast growing varieties that give significant quantities of biomass / biofuel (usually, after a three year cycle / period of growth).  Willow is particularly effective in producing biomass – giving up to 15 or more tonnes of oven-dried material per hectare per year, with relatively small inputs of labour, fertiliser etc.  It can be grown on soil that is not suitable for arable or pasture.
The woody material or biomass produced can (with appropriate treatment) be used as a furnace material.  Indeed, this is the case in Cookstown in Northern Ireland.  Here, locally growing willow biomass is being used to save on heating costs of the swimming pool – after the installation of a wood fired burner (replacing oil).  The switch from oil to biomass saves many thousands of pounds on an annual basis.
Work at Rothampsted (the agricultural research station) by Dr Nicholas Brereton and Dr Ray has been focussing on the most productive varieties of willow.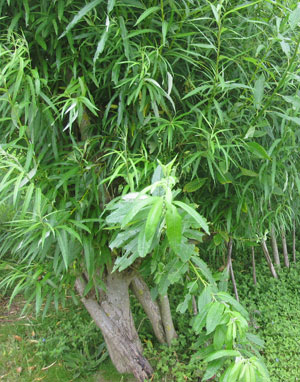 As a result of their work, they have found that the sugar content of the willow biomass is critical.  The more sugar in the material then the less 'treatment' needed to prepare it as a biofuel – this treatment uses energy.  The more energy that has to be expended in the production of the biofuel then the less environmentally friendly it becomes.
The sugar content is higher in reaction or tension wood.  Reaction or tension wood is formed when stems or branches are stressed (e.g. by wind) or try to return to an original position.   Thus, if certain varieties of willow saplings were planted at an angle then they formed reaction wood and more sugar – which in turn meant that less treatment / energy was required to create biofuel.
Comments are closed for this post.
Leave a comment
Subscribe to our blog email updates
Managing Your Woodland for Wildlife
A new book on encouraging biodiversity in your woodland. Available free here »