Juniper 'berries' are fragrant and provide the oils / chemicals that give gin a distinctive flavour.  The 'berries' used in gin production are rarely from the U.K. Many come from Italy or Macedonia, where the hot summers allow the full development of these oils (contained within the seeds).  A 'berry' takes some two years to come to maturity and ripen fully.  The 'berries' are often harvested by beating the Juniper shrub with a stick so that the ripe 'berries' fall to the ground for collection.
The 'berries' are not, in fact, berries but cones.  Juniper is a conifer (the other two native coniferous trees are Scots Pine and Yew).  Whereas the cone of Scots Pine hardens and become a woody structure as it ages, the cone of Juniper has fleshy, 'soft' scales that merge together to give a berry like structure, which encloses the seeds.  The 'berries' or cones are green when young but turn a purple black colour as they mature.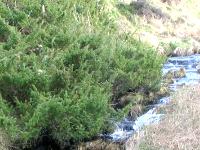 Juniper (Juniperus communis) has been in decline (in the U.K.) in recent times and many English counties have lost 60% or more of their populations (those on chalk or limestone have been particularly affected).  Often shrubs / bushes have simply died of old age and few, if any, young seedlings have established themselves to take their place.  For a 'new' generation of Juniper to be established – the following are needed
Male and female shrubs at the site for good fruit / seed set
Lots of viable seed
Suitable conditions for germination and the early growth of seedlings
Limited grazing by rabbits / stock / herbivores.
Plantlife has identified and established a number of project sites in order to conserve / manage Juniper populations.  It has planted seedlings at a number of these sites, where the existing shrubs / bushes were too old to support natural regeneration.  Further details of this important initiative can be found here; sadly though some of the plants have been stolen.
The loss of Juniper from an area would not just mean the loss of a single plant species, but would also affect the 40 or so different species of arthropod and fungi that are closely associated with it.
---
---
Leave a comment