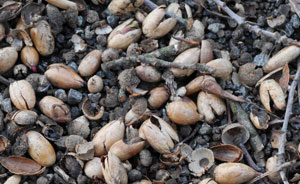 Mast is the 'nut crop' of the beech tree (Fagus sylvatica), but, in a broader sense, is the production of an enormous number of seeds. And the phenomenon is not restricted to beeches.It can also been seen in oaks, firs, spruces and pines.Such species are said to have 'mast years' and in such years it is basically impossible for animals to eat all the seeds ("predator satiation") so many seeds survive to the following spring and germinate.
In the case of beech, records suggest an underlying two year masting pattern but in practice really heavy masts (in England) are several years apart (between 5 and 12), probably due to climatic factors (late spring frosts, summer droughts).  Good beech mast years do not necessarily make for good oak or ash mast years, though heavy cropping years are probably more frequent for oak than beech.   Many animals feed on beech nuts or acorns.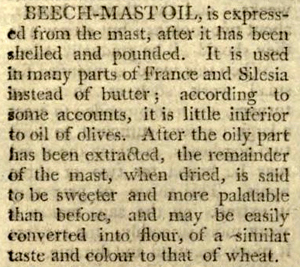 The hazel dormouse (Muscardinus avellanarius), despite its name, is also partial to beech nuts.  Squirrels (both red and grey) feed on beech mast and acorns.   The breeding success of the dormouse and squirrels has been associated with mast years. In the past, pigs and boar fed on acorns and beech mast in woodlands throughout England.  
The right to pannage, as it was called, enabled 'commoners' to fatten their pigs prior to slaughter.  The practice is still to be seen in the New Forest where in 2006 the 'pannage season' was extended because of the enormous number of acorns.
Leave a comment
Subscribe to our blog email updates
Managing Your Woodland for Wildlife
A new book on encouraging biodiversity in your woodland. Available free here »