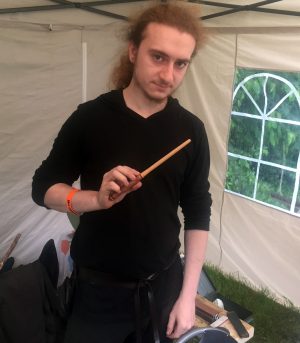 "When you make a wand," explains Arthur, "you should describe it by the wood that it's made from, its length and then its core (if it has one).  This one's a hawthorn 11-inch and I got the wood from Hallr wood, where we run Wilder Woods Forest School."   Arthur made his first wands when he was 17 including one lovely long dark wand which he was carrying with him when we met - "it's an 'Ebony 12-and-three-quarter-inch" .    Arthur turns wands on a lathe and finishes them with shaping and applying a finish.
At the Wilder Woods Forest School in Hallr Wood, groups of young adults, wand-makers, as well as toddlers learn how to live closer to nature.  This forest school project is a charity originally set up by Deb and Peter Millar who are still heavily involved - teaching green woodworking and natural crafts, and developing survival and sustainability skills.  It hosts youth groups and play schemes, as well as conservation volunteers and enrichment groups.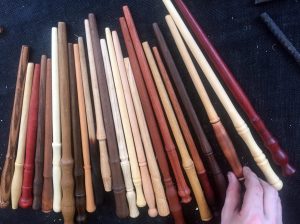 "Getting planning permission was a major effort," recalls Peter Millar.  "Initially the use of Hallr wood as a forest school (link to  https://wilderwoods.org) was challenged and we were forced to apply for planning permission." Local authority officers recommended turning down the application but the County Council and Forestry Commission were supportive. Eventually the councillors voted unanimously to give approval and even gave explicit permission for a compost toilet.  This may be the only case in the UK where a compost toilet has needed - and received - planning permission.  Making magic wands in the woodland wasn't mentioned!
I bought his red oak wand (properly called a "Red Oak 10-inches") from Arthur who had a selection of 48 wands on offer.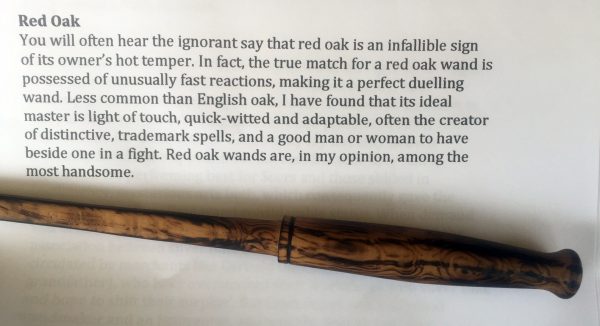 £20 may seem expensive for a wand but if you consider the turning and shaping and intricate skills involved then it's good value - if you happen to be in need of a wand.  In this case, Arthur gently burnt the surface to bring out the wood's grain.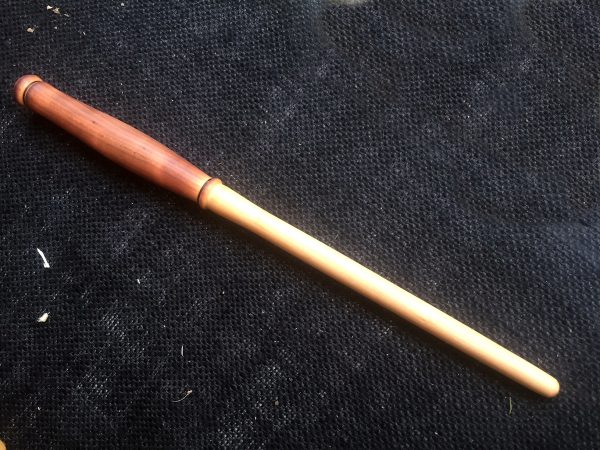 Wand making has become popular since the Harry Potter stories came out and at least one case a woodland in Devon was bought with the purpose of supplying wood for the new owner to do wand-making.  As JK Rowling's great wand maker, Ollivander, would have said, "it's not you that chooses the wand but the wand that chooses you."
Perhaps it's the same with woodland purchases....
---
---
Leave a comment