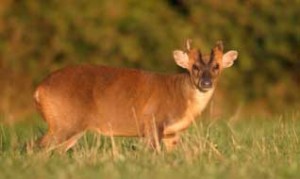 These are otherwise known as muntjac or Reeve's muntjac, being named after the nineteenth century naturalist - John Reeves. It is a curious looking creature with tusks; a bit like a small pig. Originally native to SE China, it has become feral here. In November, the Radio 4 program "Making History" had an interesting account on the origins of the muntjac in the UK.   This story starts at Woburn Abbey, back in 1893. Following the death of his brother, the 11th Duke of Bedford moved to Woburn. He introduced Reeve's muntjac to the estate, where it and other animals were kept in enclosures. The Duke was President of the Zoological Society of London, and his collection at Woburn included some 40 species of deer and various other exotic species. By the turn of the century, Woburn was essentially a zoological park (as it is today).
Victorian land owners were keen to find out which species might survive and acclimatise in this country, possibly so that they could be supplied to zoos; which were becoming popular throughout Europe. The Victorians' interest in such animals was twofold:
they were fascinated by, and interested in, the animals that had been discovered in the countries of the British Empire as scientific phenomena. There was a general interest in the diversity of plants and animals after the publication of Darwin's great work, "On The Origin of Species by means of natural selection".
they generally thought that the mammal fauna of the UK was limited, so were keen to introduce decorative species (particularly deer, which could be hunted).
The wife of the 11th Duke, Mary, recorded how the different animals fared at Woburn. She noted that animals were kept in large grass paddocks with open sheds or turned out into the open park and that elk, reindeer and caribou had failed due to 'parasitic disease of the lungs and stomach'. She noted that between 1894 & 1905 a total of 24 muntjac were imported and turned out into the woods, where they have done well. It is thought that some of these animals made their way 'into the wild'. Since that time other releases or escapes have occurred, for example, from Whipsnade Zoo in 1921.
Since that time the population of the muntjac has increased dramatically. The effect that these animals have on woodlands is serious and significant – we are paying the price of Victorian interest and curiosity.
For an overview of deer in the UK, see our blog entry on the topic.
Leave a comment
Subscribe to our blog email updates
Managing Your Woodland for Wildlife
A new book on encouraging biodiversity in your woodland. Available free here »