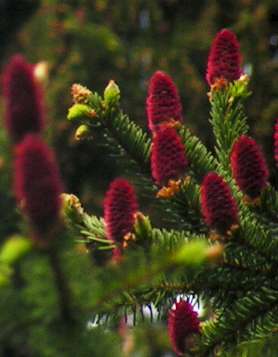 Editor's note: Hallvord used to study contemporary dance in London, he now lives in Norway and still occasionally does web development for Woodlands.co.uk.
In the Norwegian forests, every seven to ten years the dark Norway Spruce trees bloom. The exact year depends on both weather and the resting period of the trees, but somehow all trees know what year it is. In Norwegian it is called "raudkongleår", or "red cones year".
2006 was such a year. This spring we saw the first signs, and during early summer the story unfolds in every tree. The red, upright, cone-shaped flowers throw a magic red shimmer across the forests. Golden pollen is released into the wind and when it falls into water folds yellow outlines at the edges of lakes and ponds.
The timing of the trees, all blooming at the same time, is a small marvel of nature and the colours make it a rare and magic event.
Leave a comment
Subscribe to our blog email updates
Managing Your Woodland for Wildlife
A new book on encouraging biodiversity in your woodland. Available free here »