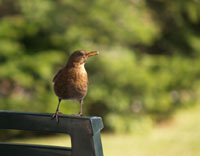 Climate change will probably mean that the UK will experience warmer, drier summers and stormier, wetter winters more often. These in turn may affect the feeding grounds of birds and other mammals. Obviously, maintaining the diversity of habitats in woodlands can help many species but the same is true of our gardens. Small changes in the way in which we garden could mean that species like stag beetles, sparrows, newts, hedgehogs, bumblebees and thrushes can be offered sanctuary.
Any of the following can help increase the number of habitats found in a garden:
Planting a hedge or native tree (but not too close to your house or the neighbours'). Trees and hedges offer shelter, shade from the sun and places to live and breed. They can also offer food in the form of berries etc. If you have a fence and do not wish to replace it, then perhaps plant some climbing plants (dog roses, hops, honeysuckle etc) – click here for more information.
Do not be too keen to tidy up the garden. Leave the cutting back of perennials for a while, so that the seed heads offer food to birds and other animals and the leaves offer shelter to insects, spiders etc. Similarly, do not throw away dead wood – it too can offer a home to spiders, woodlice etc. Create a compost heap, not only will this be a home to invertebrates but also a feeding place for birds, hedgehogs etc. Consider sowing an area of the garden with wild flower seeds (poppy, cornflower etc) – click here to find out more. .
Consider having a pond, but if this is not practical, perhaps because of young children then maybe a water feature of some description to offer birds and other animals a place to drink.
Try to ensure you grow a variety of plants in flower throughout the spring and summer months to encourage bees, moths and butterflies. The systematic use of weed killers, fungicides, and pesticides can deplete the variety of plants and animals in the garden over time. For more information on plants to encourage wildlife – click here and here
You can use your woodland to help too – it can provide logs for the garden; twigs to support your peas, beans and sweet peas; and timber for making raised beds etc.
If your garden is already buzzing with wildlife then you might want to get the camera out and submit a photograph to english nature.
Leave a comment
Subscribe to our blog email updates
Managing Your Woodland for Wildlife
A new book on encouraging biodiversity in your woodland. Available free here »