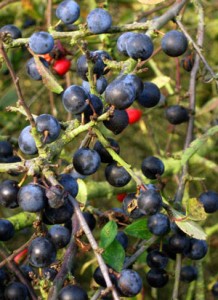 The importance of hedgerows in the maintenance of biodiversity cannot be over-emphasised.   Hedgerows provide vital food, in the form of a variety of berries - sloes, haws, blackberries etc,  for small mammals and birds (redwings, blackbirds) and hedgerow flowers support pollinating insects - a  variety of bees and butterflies.
However, the 'management' of hedgerows or trimming / flailing of a hedgerow can make a significant difference to its productivity - that is, the number of flowers and fruits produced.  Recent work by Dr. Joanna Staly (Centre for Ecology and Hydrology) has focused in on the management of hedgerows.
This study suggests that annual cutting of hedgerows is counter-productive. The research looked at different management regimes for hawthorn hedges in Cambridgeshire, and it would seem that a three year cycle of cutting (as compared to annual) gives twice as many flowers and three time the yield of berries / fruits (or more!).
At present, many hedgerows are under a two year agri-environment scheme (AES), with the hedgerows cut back in the Autumn.  A simple shift to cutting back in winter rather than Autumn would result in a substantial increase in berry yield but a three year management program would seem to be best in terms of supporting wild life.   Further details of this interesting work can be found here
---
Comments are closed for this post.
---
Leave a comment