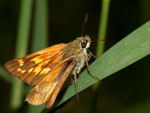 Moths, along with butterflies, belong to the taxonomic classification Lepidoptera. The name Lepidoptera derives from the Greek lepis (scale) and pteron (wing).
For information on how to distinguish between a butterfly and a moth, click here.
Almost 2,500 species of moth are thought to reside in the British Isles and these have in turn been grouped as macro-moths and micro-moths. As with most artificial categorisations, this is a somewhat misleading split - some of the micro moths are larger than some of the macro moths.
Peter Kirby of the Kent branch of Butterfly Conservation has done a number of surveys of moth populations in our woodlands:
If you want to find out more about butterfly and moth conservation click here.
Leave a comment
Subscribe to our blog email updates
Managing Your Woodland for Wildlife
A new book on encouraging biodiversity in your woodland. Available free here »