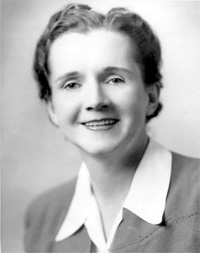 May 2007 marked the centenary of the birth of pioneering environmentalist, Rachel Carson (1907-1964). Publication of "Silent Spring" in 1962 marked a change in public opinion towards the use of chemicals and the natural environment.
During the Second World War, to protect troops, the insecticide DDT was sprayed widely by the American army in malarial areas such as southern Italy. After the war, it became a popular means of controlling insect pests - older readers will remember DDT powder for the garden and for woodworm. Sprayed over large areas, however, it destroyed insect life indiscriminately, and led, notoriously, to the thinning of bird eggshells. In "Silent Spring" Carson evoked a dawn with no bird song. Despite fierce opposition from the chemical industry, her meticulous research and dogged persistence won public support and this highly influential book has become a classic.
Carson introduced the idea of the "chain of events". In the 1950s, American elms were sprayed to protect them from Dutch elm disease. After one season, migratory robins were found to be dying in some numbers. Leaf litter from the trees had been consumed by earthworms, which in turn were eaten by the birds. In this country, DDT in sheep dip affected peregrines and golden eagles.
Use of DDT is now banned, but a complete ban, particularly in Africa, is controversial. As yet, there is no alternative that is either as cheap or as effective at controlling malaria.
Leave a comment
Subscribe to our blog email updates
Managing Your Woodland for Wildlife
A new book on encouraging biodiversity in your woodland. Available free here »