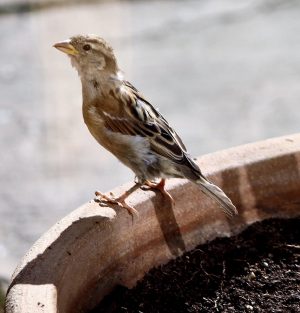 In the 1970's, the house sparrow population of the UK was estimated at 12 million, but over the last 25 years it has fallen dramatically. So much so that the sparrow has now been added to the Red Data List (August 2002). Sparrows do not generally fly far - rarely more than 2 miles from the point where they hatch and can produce 3 or 4 clutches of eggs per year.
Many different reasons for their decline have been suggested. These include:
predation by pet cats, crows and birds of prey;
loss of suitable nesting sites;
disease;
pollutants;
lack of seeds/grains for adult birds.
The availability of grains and seeds from cereals was at one point thought to be a major factor in the fall of the sparrow population. Changes in agricultural practice (e.g. more effective delivery of cereal feed, better storage of grain) were said to have reduced the amount of food available to the birds, which in turn would have affected their breeding success. However, in recent times attention has focused on the food available to young birds some 5-6 days after hatching. At this stage, they are heavily reliant on the aphids (green and black fly), or tipulids (crane flies)) which supply protein needed for growth. Young birds that experienced a more vegetarian diet were less likely to survive. Much of this recent work has been undertaken by Kate Vincent of De Montfort University in collaboration with the RSPB and English Nature.
The creation of insect friendly gardens (less concrete, gravel, decking) may help offset the further decline of the sparrow in urban areas.
Other Links
British trust for Ornithology – Trends in numbers and breeding performance for UK birds.
[Thanks to Sharon for photo]
Leave a comment
Subscribe to our blog email updates
Managing Your Woodland for Wildlife
A new book on encouraging biodiversity in your woodland. Available free here »