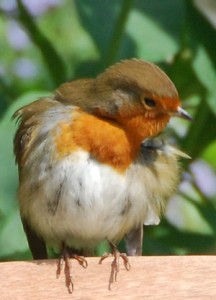 S

eason's Greetings.   
The robin, frequently pictured on Christmas cards,  is making something of a "come back".  Its numbers have increased by roughly 50%, compared to when it was first recorded back in 1970.
The RSPB has suggested that milder winters and earlier Springs have contributed to its increased numbers; and it is estimated that there are now some 5 - 6  million breeding pairs of robins in the U.K.  However, its populations can be 'knocked back' by hard winters – such as we have experienced recently.  A small bird, such as the robin, can rapidly lose much of its body mass through a short succession of cold nights and days - burning its reserves (of fat) to generate heat energy  to maintain its body temperature.  They also use up energy in the search for food, which is often in very limited supply under cold conditions.
Whilst the robin is doing well, the same cannot be said for all other 'red breasted' birds .  Male linnets, lesser redpolls and bullfinches also display red breasts, like the robin.
The decline of various species of birds in the U.K. has been attributed to
Habitat deterioration due to modern agricultural practices
Changing patterns of agricultural land use (though the use of set aside has helped in more recent times)
Woodland management or rather the lack of it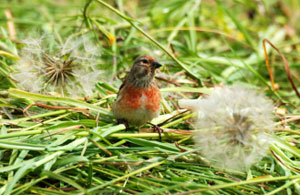 The linnet and lesser redpoll remain on the RSPB's and BTO's Red List.  The redpoll has featured more often in the BTO's garden Bird Watch survey  ,  perhaps because in late winter they move from country areas to gardens in search of food.  Details of the BTO's Bird watch may be found here
Comments are closed for this post.
Leave a comment
Subscribe to our blog email updates
Managing Your Woodland for Wildlife
A new book on encouraging biodiversity in your woodland. Available free here »