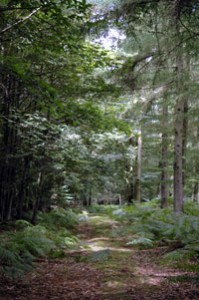 Caring for a woodland is a labour of love that takes commitment, hard work and altruism. Some of that conservation work may not yield fruit for a generation, but when it does, it boosts entire communities. By recognising the efforts of woodland owners, we may inspire others to do the same. So, for the second year running, Woodlands.co.uk are sponsoring the Small Woodlands category in the prestigious Royal Forestry Society (RFS) Woodlands Awards and you are warmly invited to participate.
The Small Woodlands category will accept entries from owners of a single wood or neighbouring units of up to 20 hectares. The woodlands may be recent or old, but must have been established for at least ten years.  Held in association with the Forestry Commission England, the annual RFS Awards move around the country. Next year, it is the turn of the South West of England. The RFS are now ready to accept entries, which must be received by 6 March 2012. Judging will take place in May and June and the awards will be presented at the National Arboretum at Westonbirt on 5 July 2012.
RFS Chief Executive Dr John Jackson said: "This year the spotlight falls on the South West, and we are convinced the wide range of woodlands found across the area will reveal some truly exceptional examples of best practice".  And what is considered best practice?   The judges will be looking for evidence of good, holistic management which has improved the wood significantly in some way. A key area they will look at is the suitability of tree species planted.
For further details and entry forms visit http://www.rfs.org.uk/involved/Small-Woodlands-Award or email [email protected].
If you need any help with your entry,  please email [email protected].
Comments are closed for this post.
Leave a comment
Subscribe to our blog email updates
Managing Your Woodland for Wildlife
A new book on encouraging biodiversity in your woodland. Available free here »