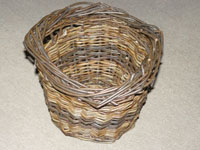 Tracy Pepler relates her experiences on a basket weaving course in Kent.  Let us know if you've been on a course you'd recommend to woodland owners:-
Last weekend I decided to have a go at basket weaving. Like many people I had looked at books and tried to follow the instructions, only to decide moments later that it might as well be written in Chinese! So, I finally booked myself on a course with Alan Sage (ajscrafts.co.uk) who holds courses at the Rare Breeds Centre in Kent and it was the best value for money I have ever had on a course! Alan was very patient and thorough as he went through all the steps from harvesting and preparing the willow, to the final product. He showed us a variety of baskets, and although we all made a round base, he encouraged people to try a variety of weaves, and handles, so we could watch and learn from each other.

Weaving can be done with a variety of materials, reeds, grasses, woods, fabric and a course is a very good way to get started. If you are interested in doing some weaving, winter is a good time to collect your willow. Straight, thin poles at least 4 ft long are the best. They must have no side branches or injuries. The willow needs to be dried out and then re-soaked before using, so this is when the pond becomes very useful! All woodland owners should have a go! I learned a new respect for people who make baskets. I had sore hands and fingers and a tired brain  but it was great fun and you end up with a very useful resource.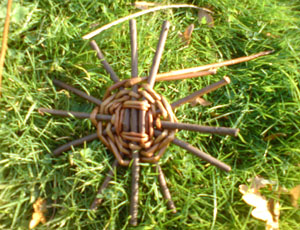 1.  Made a start ...
2.  You need lots of room when you add the upstakes!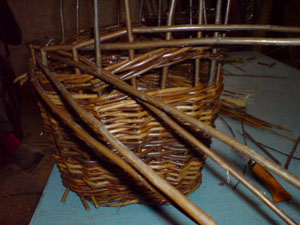 3. Making the handles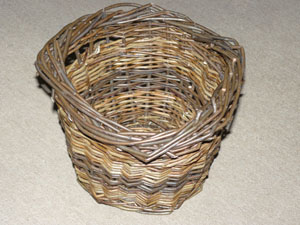 4. My somewhat rustic basket!
---
---
Leave a comment