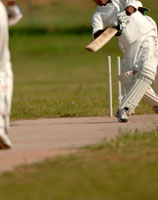 Everyone knows that cricket is the sound of "leather on willow", but it's not any old willow.  Cricket Bat Willow is a variety all of its own – Salix alba 'Caerulea'.  This fast-growing and straight-stemmed variety of willow produces wood that is tough but lightweight and does not shatter easily - ideal for cricket bats.
It's a skilled business choosing the best wood, and there is a market for good quality cricket bat willow timber.  Logs are split into "clefts" and shaped into the rough bat shape or "blade".  The ends are then waxed to prevent the wood drying out and splitting. 
The wood is carefully air-dried over a period of 12 months to the correct moisture content and the blades are graded according to grain, colouring and any small blemishes.  From Grade 1, which is the very best, blemish-free wood, to Grade 4, which will play just as well but will have more blemishes.  The premium bat blades are the whitest with the closest grain.  "Blemishes" on the face of a bat will be variations in colour, inconsistencies of grain, and "specks" - tiny grains of grit taken up into the tree from the soil.  Tiny, "living" knots are confined to the edge of the blade, and larger, "dead" knots are cut out and filled and will only appear on the reverse of a blade.
The blades are then passed on to the cricket bat maker.  To make the wood able to withstand being hit by a cricket ball at high speed, it is pressed at a pressure of up to 2,000 lbs but it a matter of judgement for the bat maker.  Too little and the bat will break when used, too much and the wood will be unworkable.  A handle is spliced on and the blade is finally ready for shaping, done by hand with a drawknife, spoke shave, planes and a practiced eye.  A final sanding and coat of wax finishes the job. 
Leave a comment
Subscribe to our blog email updates
Managing Your Woodland for Wildlife
A new book on encouraging biodiversity in your woodland. Available free here »