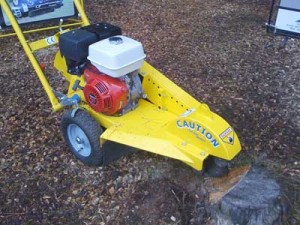 If you have cleared a new track, there are often stumps that you want to remove.  In many situations these can be left to rot away but the process takes many years and if it is a heavily used path these represent a trip hazard and need grinding down.  There are some good commercial services offering stump grinding contracting such as Stuart Gray's (stumpbusters-thamesvalley.co.uk) which will work out reasonably - particularly if you have a full day's work for him.  Other solutions involve hiring a stump grinder or buying one.
Buying a conventional stump grinder
The cost of buying a conventional stump grinder from a company like Danequip in Hampshire works out at about £3,250 plus vat for their smaller model (13pp) but it's still pretty powerful - I saw their grinder at the APF show in Cannock Chase.  It has cutting teeth that can be individually adjusted or replaced and is built in the UK - at least the components are put together here though most of these parts are made abroad.
Stump grinding, trenching and brushcutting all in one
Another option is Martin Hynard's stump grinder that is powered by a standard powerhead - a Stihl TS760 or a Husqvarna 312-OXP.  This unusual looking device is available at alpinemagnum.co.uk and can grind down a 12 inch diameter stump in under ten minutes.  It is very light so can be transported in a pick up and will fit into the back of an estate car.  This stump grinder itself weighs only 40kg and costs about £4,000 with the vat and includes the powerhead.  It works by using chainsaw-style teeth on a cutter wheel which turns at 4,800 revs per minute.  Sharpening the teeth can be done on the machine with an angle grinder or separately on a work bench.
Easy to manoeuvre when your stumps are hard to get to
Compared to other stump grinders the Alpine Magnum model is particularly good at getting to the stump - it can go down steep slopes and be easily moved down stairs but it can also do the business (stump grinding) on a steep slope and doesn't require a qualified operator to use it.  This grinder can also be used for trenching which is surprisingly often needed for putting in pipes/wires or putting in rabbit-proof fencing.  This should ideally be done when the teeth are a bit dulled and before sharpening or replacing.  Some people also use these for brushcutting brambles because it cuts below the ground taking out roots and gives a result similar to a mulcher. Martin says, "my background is from treework and I didn't envisage myself selling forestry equipment but I got into supplying because I couldn't find a downside with this particular stump grinder."
---
---
Leave a comment
Wild Flower Guide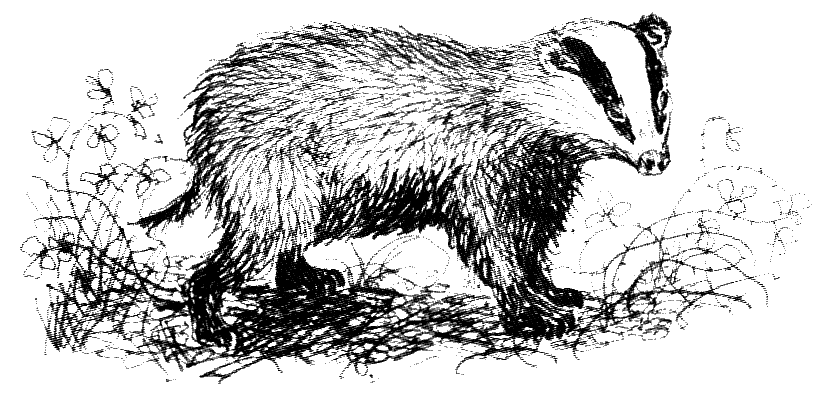 Topics
Tags
Managing Your Woodland for Wildlife
A new book on encouraging biodiversity in your woodland. Available free here »