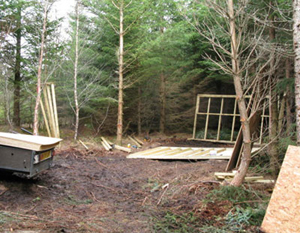 Some people who manage their own woodlands feel it would be easier if they had a shed or building to store things and to shelter when it rains. In principle, local authorities are positive about this as they want to see woodlands managed but in practice planning officers often fear that sheds are the thin end of a wedge that will end up with a residential development which doesn't fit within the local development plan. Consequently there is a tension here but there is also a strong desire amongst planners and neighbours that sheds or shelters shoudld be unobtrusive.
Woodlands.co.uk have recently conducted a survey of about 150 owners of small woodlands and found that over 40% have a shed or shelter of some kind in their wood - the full results of this survey will be published here shortly. To help with the whole subject of sheds, we have written a leaflet which can be downloaded from our website at: https://www.woodlands.co.uk/owning-a-wood/sheds/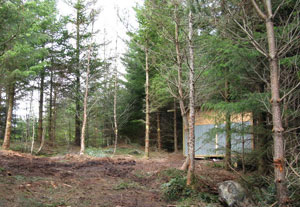 Sheds can be made or bought.  As an experiment we have recently built one in a woodland that particularly needed shelter: the materials cost £800 but is large and very solidly built. The picture here illustrates how the positioning of such a shed can make it unobtrusive.
An easier way to get a shed is to buy one "off the self" in a flatpacked form and many firms offer these at very reasonable prices - one that we know well is www.sheds.co.uk.

An alternative is to use a shipping container which is usually very secure but these do need to be painted, carefully sited and ideally have plants growing over them.

Please tell us (using the comments form below) what you have done (or plan to do) about a shed for shelter and tools.
Leave a comment
Subscribe to our blog email updates
Managing Your Woodland for Wildlife
A new book on encouraging biodiversity in your woodland. Available free here »