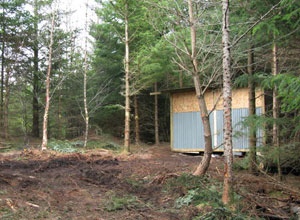 We did a survey on sheds for storage amongst woodland owners and although the sample is small, the results were nevertheless interesting .   We had responses for 27 woods; 14 had no shed and 13 woods already had a shed in use. The woods were mostly between 5 and 14 acres in area.
The prime use for a shed is storage. All of the respondents quoted forestry tools and materials; all but three quoted camping kit, tables, chairs, kettles, etc; nine talked of things to help children with woodland activities; one owner stored green woodworking tools.   Apart from storage, a shed is seen as useful for shelter from the weather by 60% of owners.  Twelve respondents gave the collection of rainwater from the roof of the shed for washing as a benefit.
These uses can enhance the enjoyment and satisfaction from a wood by, for instance:
i.               Enabling children to learn more about nature from reference books kept in the shed (ten respondents) and get more out of playing in the woods, with ropes, ladders, etc, available (nine respondents)
ii.               Facilitating study of bio-diversity; sculpting in wood; as a hide for bird watching, for tree seed propagation and keeping reference literature on trees and wildlife.
iii.               Encouraging friends to come along for a day to do some conservation work (16 respondents). One respondent said: "People have fallen in love with visiting the wood because the shed is available, particularly at times of bad weather, and when children want some sleep/retreat time without being out in the open. With the small stove and some paraffin and candle lights, the shelter it provides has turned many a washout day into a memorable and simulating visit."
Owners also identify several environmental benefits of sheds in woodlands:
a)          The use of a smaller car (a third of respondents);
b)          Travel to the wood by bike or train (a third of respondents, plus one who would walk to the wood from home);
c)          Fewer car journeys, because easier camping facilitates staying for more than a day at a time (over half of respondents)
More than half of owners said that a shed can reduce track damage, by lightening the laden weight of their car and by making it possible to leave the car at the roadside, particularly so when tracks are muddy.  Most owners had found, or could find, somewhere in their woods where a shed would be invisible from any road or public footpath.
Everyone with a shed, or wanting one, favoured careful siting to minimise any environmental impact, and to deter intruders. To support sheds all owners used or plan to use rows of bricks, large stones, oak or chestnut logs, or sleepers, rather than laying concrete foundations (so that no permanent mark is left on the landscape).
One respondent suggested a design resembling an iron age round house.  A wooden shed, either prefabricated or, as several people suggested, made from timber from the wood itself, was favoured. Some want or have a steel container, painted green; though one believed that anything built in a wood should be built as much as possible from produce of their own wood.  As to size of shed: about half of the existing ones are quite small (6 ft by 4 ft) and about half are around 8 ft by 18 ft. The size most wanted for woods without sheds is 10 ft by 12 ft.
Permission to build a dwelling in woodland is only given in extremely rare circumstances, but stores for forestry purposes are generally permitted.  There is, however, a notification process, requiring you to tell your local planning authority. The last word, summarising how much woodland owners value their sheds, goes to the owner wanting a 6 ft by 8 ft prefabricated shed, supported on oak or chestnut logs: "At present, I leave what I can of little value inside the oil drum that I use for burning. A shed would be luxury indeed."
---
---
Leave a comment