Don't disturb the wildlife:
I sometimes wonder if all that Springwatch style creeping around and talking in hushed tones is strictly necessary. In most woods, songbirds are still around literally feet from where I'm chain-sawing, I have seen deer happily grazing only 30 – 40 yards down a track from where I'm making a right din and today, in Iron Fort Wood, and in bright sunshine, my work colleague spotted an adult badger passing between him and me, no more than 20 yards or so from where I was strimming away. It seemed as oblivious to my presence as I was to its.
Sightings: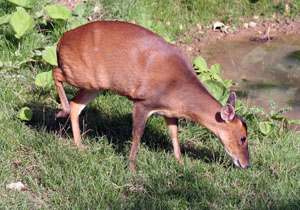 Seen in and around my woods this month – with thanks to woodland owners & visitors who reported some of these, the rest I observed:-
 Muntjac deer, only a few yards inside the main entrance gate at Pelynt [Hendra Wood]
Again, muntjac deer being – unsuccessfully – stalked by a young fox down by the stream along the northern boundary of Forda Wood. near Kilkhampton
Three pheasant egg shells in the middle of a track at Redstone Wood. Something had obviously removed them from there home and taken them somewhere more comfortable to enjoy its meal
Full details on all of the woods mentioned above can be found at: https://www.woodlands.co.uk/buying-a-wood/cornwall-and-west-devon/
Ratchet straps:
Space being limited, I always have to think about what tools and equipment to take and what can be left behind when loading up the wagon for a days work. There are some items though without which I will not go anywhere. These include WD-40, Duck tape and some polypropylene rope. To these I have now added a couple of ratchet straps, which have uses way beyond those they were originally designed for ie strapping down loads. In the past fortnight, mine have seen action: restraining a want-away tree on a steep slope, up-righting a biggish ash which had part gone over and was too tall/heavy to manhandle back into position and best of all, winching a reluctant mini-tractor back up the ramps and onto the trailer. Painfully slow, but effective.
Ticks: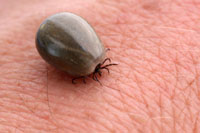 Spent most of the day working in an area containing lots of bracken and so was not surprised to find what is so far my only tick of the year firmly attached to my left leg. I thought I was fairly well protected; long-sleeved shirt, trousers tucked into my socks, but I had forgotten that there is a small tear just above the knee in the left leg of my trousers – and that is exactly where I found the tick. Easy enough to get rid of though; first smother the blighter with Vaseline – this suffocates them, then carefully remove with tweezers and douse the "wound" with TCP. Just one of the reasons I so much enjoy working with my colleague Stuart is that he is something of a tick magnet – there have been occasions when he has been into double figures whilst I have remained unscathed.
Leave a comment
Subscribe to our blog email updates
Managing Your Woodland for Wildlife
A new book on encouraging biodiversity in your woodland. Available free here »