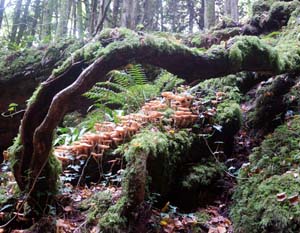 Located near the western fringes of the Forest of Dean, Puzzlewood is probably the closest thing you will find to an enchanted woodland - this side of a Disney animation.
In fact there are many links to the world of art and entertainment.  J.R R. Tolkien is said to have been a frequent visitor around the time he was writing 'The Hobbit' and 'Lord of the Rings'.  Many believe that Puzzlewood was the inspiration for the fabled forests of those two novels. More recently, the BBC has used Puzzlewood as a location for filming episodes of Merlin and Dr Who.
Once an Iron Age quarry and mine, subsequently inhabited by the Romans, the woodland has long since reverted to nature and, left largely to its own devices, has now become a tangled network of narrow paths, secret passageways and dead-ends with spectacular moss-covered rock formations, deep ravines, wooden bridges and walkways and, of course, fantastic trees.
There are no signposts, visitors are encouraged to lose themselves in this informal maze, making their own discoveries along the way. However, if you speak to her nicely, the resident cat will accompany you around and gets quite vocal if – in her opinion – you take a wrong turn!
There are various other attractions on-site, including farm animals, play barns, a willow maze and the inevitable café / gift-shop. But for many, both young and not so young, Puzzlewood alone is reason enough for a visit.
Leave a comment
Subscribe to our blog email updates
Managing Your Woodland for Wildlife
A new book on encouraging biodiversity in your woodland. Available free here »