Yew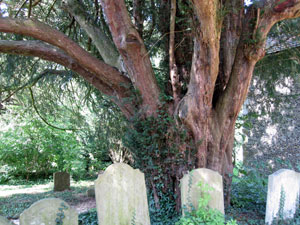 In the UK, there are three native conifers: the Juniper, the Scots Pine and the Yew (Taxus baccata). The genus Taxus contains some eight species, seven of which are found in the Northern Hemisphere.
The Yew is said to be slow growing and can be of great longevity. Some Yews (e.g. the Fortingall Yew), are probably thousands of years old. Estimating the age of a Yew can be difficult as they develop hollowtrunks;  dating by annual rings is next to impossible.  These trunks may also fill with aerial roots that grow down from the crown.
Yew is to be found naturally on many soil types, though it is perhaps more common on chalk in the south east and limestone in the north. It is also found in the shade of oak woodlands, and during the last 300 years it has been widely planted in parks and gardens - as yew hedging. Ancient or veteran trees are often associated with church-yards and have been connected with other sacred places.  One site that offers a lot of information about the Yew is the Ancient Yew Group.