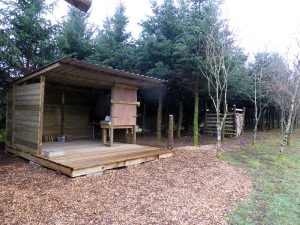 Busman's Holiday by Dick
It was at the Bath & West Show last June, on the occasion of my 65th birthday that I first mentioned to Angus that, whilst not wishing to hang up my chainsaw completely, I was looking to reduce my day-to-day involvement in woodlands.co.uk significantly.
So we worked out a plan whereby I would still do some contracting work for the company [and for my other clients, many of whom had bought their woodlands from the company], as well as specific projects like organising show attendance, sourcing company merchandise and so on, whilst my esteemed colleague and good friend, Mr Stuart Brooking would take on 'my patch' thus reverting to the role he had prior to my arrival in September 2006 ie local manager for both Devon and Cornwall.
So what to do with the extra time I now had? More time fishing and trying to improve my guitar playing – the latter not necessarily viewed as a positive development by my family & neighbours. And, more time in the woods; but not just any wood, my own wood. Angus had very kindly agreed to let me acquire a small area within one of the company's woodlands, not far from my home and somewhere I had spent a lot of time over the past couple of years, preparing family-sized woodlands for sale.
Even though I had spent several days a week, most weeks for the past 12 years or so working in the woods, this was different and I couldn't wait to get started. Whilst we usually counsel new buyers not to rush into things and to wait maybe a year before undertaking major changes, I had the advantage of having seen this woodland through the changing seasons over a two year period, so had a pretty good idea about what I wanted to do.
'My' wood already had the tremendous benefit of a 20 foot shipping container, providing secure storage for tools & equipment, but my first priority was to build a shelter/workspace – somewhere to retreat to for a break or to see out the worst of the Dartmoor climate
as well as to carry out tool maintenance and work on making walking sticks. I also wanted a log store or two.
This infrastructure is now in place, so my thoughts turn to my next two projects in the wood itself: creating a 'family woodland' area and restoring a long-neglected and very overgrown hedge-bank. But more of this next time.
For now I continue to relish this, for me, new experience of working in 'my' wood rather than the woods.
---
---
Leave a comment