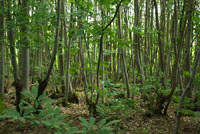 David Cole spends a day with Ben Law at his wonderful woodland house and gets a glimpse into a life dedicated to a working  woodland.
In March 2009 I went to Ben Law's woodland in Sussex for a one day course aptly, if un-snappily, entitled "I've Bought a Woodland, What Do I Do Now?".
Early this year my wife and I bought a small parcel of woodland from Woodlands.co.uk near where we live in Cornwall, and shortly afterwards learnt of Ben Law's courses through Permaculture Magazine. This particular one seemed to slot into place at just the right time, especially for relative novices!
I'm sure many people will be aware of Ben and who he is, but for those that aren't, he has over the last few years become something of a celebrity, initially through Kevin McCloud's Channel 4 Grand Designs programme way back in 2002/3 which charted the construction of Ben's woodland house.  Although not the main reason for writing this, it warrants more than a passing mention because of its uniqueness.
Ben's background is woodsman through and through, to the point where initially he was living in the semi-outdoors just to be on site permanently; his over-riding concern is for the welfare of his woods, and he also produces charcoal which needs constant attention. He battled for many years to obtain planning permission for a permanent dwelling, which was eventually granted based on his proof of needing to live 'on site'. The result in a nutshell is a masterpiece, reminding me of a 'Hansel & Gretel' setting, using timber from literally outside the back door, although the back door came later! The (potential) downside to this achievement is that only Ben can live there and it might have to be demolished if he left; however he now has a family, and if his son continues the tradition hopefully the house is safe into the future!
Ben now runs a few different courses at his woodland, and the one I went on included around a dozen people from diverse backgrounds, some already woodland owners and a few aspiring to be. We gathered initially around the firepit in the 'outdoor kitchen' with an ancient blackened kettle providing ready water for hot drinks, as each person took it in turns to say what brought them there and what they wanted to get out of it.
We then ambled off on a guided tour of the woodland, with his dog Oily always ready to alert him to grey squirrels up a tree. These are pests that he must control as they do much damage to regenerating coppice. I had wrongly assumed coppicing to be his main activity, but I soon realised that it's just one of several operations. What struck me was the diversity. Ben coppices about 2 acres at a time, with the sweet chestnut being on a 12-15 year cycle. This yields some differing pole sizes which will dictate different uses accordingly, from yurt poles down to firewood, especially if a cut supply has lain around for a while unprocessed. The general rule is that hardly anything is wasted - just about any dimension of any harvested species has a commercial use if you know what you're doing and have an identified market for it. Larger sweet chestnut that has perhaps come from an area that has missed out on its coppice cycle might be destined for a timber framed building (like the cruck frame in Ben's house). With more experience under his belt he now supplies materials and advice to prospective builders, and one current project is the construction of a community shop in the nearby village which will sell all manner of local produce.
He also has other areas with hardwoods, and for example, from a felling of oak he might produce green oak cladding boards (on a portable sawmill) or roof shingles. At the opposite end of the spectrum he supplies bundles of brash wood to a rivers agency to limit river bank erosion. Another minor activity that I found a bit quirky, but nevertheless logical, is that from a small supply of round logs measuring roughly 600mm x 150mm dia. he bores several holes in each log and fills with a spore that yields shitake mushrooms. This is a great spin-off that gains access to a completely different market sector - perhaps the same market as would be buying the locally produced charcoal! Then there's the garden furniture, or trellises, or arbors . . . . the list goes on. He has also built lean-to shelters for air-drying timber, to give a supply of material for making things in the workshop when age will dictate he can no longer manage the woods.
So, to sum up, this was a thoroughly enlightening experience that opened my eyes to many possibilities, showing that someone who is a master at what he does can really maximise the potential from a woodland. It's a wonderful lifestyle for anyone with the stamina! Such dedication is all-consuming but obviously very rewarding.
Ben's over-riding dictum that I came away with (for new woodland owners): "The best thing you can do in the first year is NOTHING!"
It's well worth a look at his website: www.ben-law.co.uk
Leave a comment
Subscribe to our blog email updates
Managing Your Woodland for Wildlife
A new book on encouraging biodiversity in your woodland. Available free here »