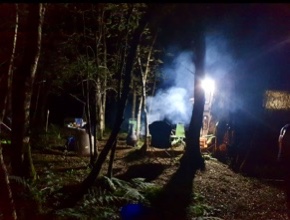 So!  My story begins many, many years ago when I had a dream to own my very own woodland.  Of course I didn't believe it would ever come true, however, a dream's a dream and one day I decided to go for it.  I sold my house and downsized in a big way so that I had funds to realise my dream.  Then the search began, three years of searching. Everything I found was too far away, too expensive, too big, too small……!! Then, I fell on one for sale with Woodlands.co.uk, just five minutes from home and 6½ acres – perfect!
I will never forget the day of completion.  I was soo excited and couldn't wait to get the key to my gate so I could officially walk through my very own woodland.  As I struggled through the bracken and brambles, which in themselves were a delight…. Little birds popping out, discovering little plants, blackberries, raspberries, self-set holly bushes, oak trees… It was just wonderful.  The majestic Silver Birch trees towering over me giving sneak previews of the sky above.  The smell was just amazing…. Was it my imagination or was the air so pure with subtle scents of the tree and plant species. I was truly in my element.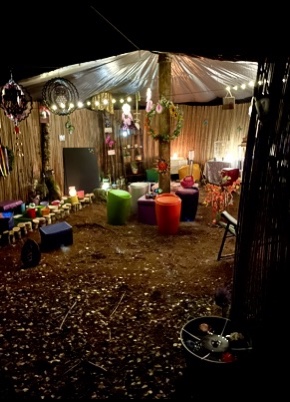 My intention was to spend as much time there as possible so setting up camp was a priority, along with a pathway so as not to disturb any wildlife/budding growths when clambering through the dense overgrowth.
I cleared an area for the 'camp' which was soon to consist of a fire pit, stumps from the larger fallen trees for seats, a frame from cut off trees to throw a sheet of tarpaulin over - should the rain come. This little secret area became a huge part of the early days at the woodland. There's nothing quite like boiling a kettle on an open fire, cooking lunch using the branches collected.  The smell, the warmth not to mention the smoke to keep the unwelcome little bug visitors away!!! Imagine my excitement when 7 deer came strolling past for the first time which gave me the idea to have an area to encourage them to visit so that we could hopefully see them regularly.
Over the next few months, pathways were developed so that all areas of the woodland could be accessed with various areas of interest including a sensory garden, allotment, orchard, natural pond, various picnic areas, deer watch area, an 'observatory' to shelter us in the evening / night where we hide out and watched the night wildlife (deer, rabbits, owls), and our very own 'Hartley Hare' !!!).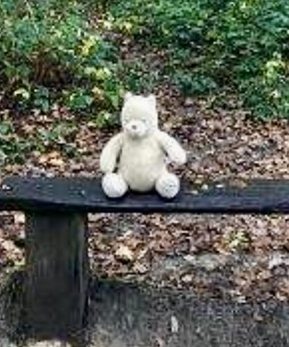 On clear nights, watching the stars through the telescope is just amazing… there's no light pollution so the sights are just amazing. Then there's the memorial garden, inspired by my sister who I lost to Covid in March 2020. And, who could have a woodland without a bit of Winnie the Pooh – a tribute to Hundred Acre Wood!!!
I have put bird boxes up to encourage varieties including Tree Creeper, Blue tits, Great Tits, Sparrows,, Nuthatches, Owls and baskets for Sparrow hawks, Hobbits and Buzzards. The original disappointment as squirrels moved into the Barn Owl box and Pigeons into the Tawny Owl box soon became delight as the babies arrived. It was so lovely watching the busy parents rearing their young. Then, the following season, guess what….. yes!!…. A Barn owl nested!!
Friends and family just love to visit the woodland to enjoy the magical relaxing atmosphere; to explore the pathways leading to the various little nooks and crannies to search for plants, insects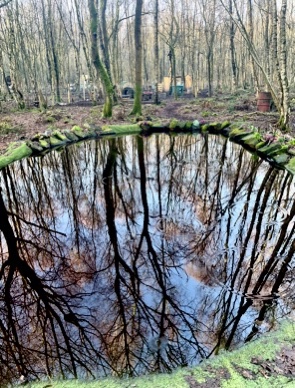 and just to sit quietly, listening to the birds and the rustle of the leaves.
To anyone who has never thought of owning a woodland before, just imaging the freedom, the space, the never ending discoveries of plant life, tree life, wildlife and with imagination, you can make more than one dream come true. 
To anyone who is thinking of owning a woodland…. Do it! 
You will have nothing but pleasure and peace, and experience an immediate shift in your mental wellbeing and, if like me you have physical disabilities, the change of pace, the air, the green will have a positive impact on your aches and pains!!!
---
Thanks to Lesley for the above enthusiastic account of her woodland adventure.
---
---
Leave a comment