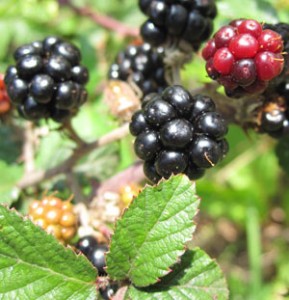 Autumn is a time when the hedgerows and woodlands literally 'bear fruit' such as Blackberries, Elderberries, Haws (from Hawthorn), Rose hips, and Sloes (from the Blackthorn).   Over the years, the blog has offered a number of suggestions about using these various fruits :
Blackberries or brambles can be found throughout the U.K. in hedgerows, woodlands, wasteland and, of course, gardens.  Legend has it that they should not be picked after Michaelmas, that is, the day that Satan was banished from heaven - 29th September (though at one time it was the 10th October); see  Catherine's blog.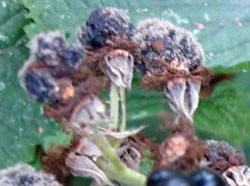 This idea may be explained / rationalised as the weather becomes wetter and colder as the season progresses and the fruits are more likely to become mouldy or rot, due to fungi.  In recent years, blackberries have been ripening in the first weeks of August – which might be a sign of climate change; though Nature Watch has had fewer reports of early ripening this year, which might be the result of the relatively cold Spring.
The Tree Council is organising its autumn festival.  This aims to encourage school children and families to gather seeds, fruits and nuts , and also grow trees for the future. The festival starts on the 23rd September (the autumnal equinox) and continues until the 23rd October,  further details can be found here.
An article on autumn fruits and berries can be found here : http://www.telegraph.co.uk/foodanddrink/foodanddrinknews/8023254/Bumper-crop-of-fruits-and-berries-forecast-by-National-Trust.html
and here http://www.plantlife.org.uk/blackberry
Note: always be careful and stay safe.
Some wild fruits and berries are poisonous. You need to know what you are picking. If you are uncertain, then do not pick it nor eat it. Take someone who is experienced in foraging. You should wear appropriate clothing, including gloves (the thorns on a bramble can be quite 'spiteful'!
---
---
Leave a comment