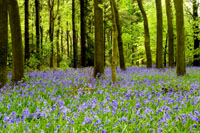 One of the pleasures of working for Woodlands.co.uk is the opportunity to enjoy some really spectacular displays of bluebells at this time of year, for example Low Orltons Copse, Kilnfield Wood and Ball Wood in Sussex are beautiful now.  (You can see some pictures of these woods in the South-East section of the website.) 
However, for those of us who aren't lucky enough to own our own wood (yet!), the National Trust has selected 10 of its best bluebell woodlands across England and Northern Ireland and you can see a list of these at http://www.nationaltrust.org.uk/main/w-vh/w-visits/w-events/w-events-buebell_walks.htm .  Some also offer a downloadable wildlife walk leaflet.
The Woodland Trust website is also well worth a visit.  See http://www.woodland-trust.org.uk/whatsnew/furtherinfo/bluebellmain.htm for an interactive map to find a bluebell wood near you.  You can also watch them spread across the country from south to north through April and May in the "Nature's Calendar", and find out more about bluebells in the "Nature Notes".
Leave a comment
Subscribe to our blog email updates
Managing Your Woodland for Wildlife
A new book on encouraging biodiversity in your woodland. Available free here »