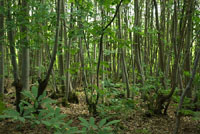 Many woodlands in the UK have historically been managed as coppice, yielding high productivity and benefiting biodiversity. In recent decades the management of coppice woodland has declined due to mechanisation, conifer plantations and cheap imports of timber.  But now, as more people focus
on sustainable wood production, sourcing local produce and promoting biodiversity, the interest in coppicing as a woodland management method is rising again. With the recent trend of buying woodland, there are now many new woodland owners who are keen to manage their land effectively and with consideration for the environment, but do not yet have the skills and experience to do so.
Coppice.co.uk provides an on-line resource for coppicing information, and is useful for new owners and experienced woodland managers alike. Information has been contributed by coppice workers and foresters, covering the cultivation of sweet chestnut and hazel coppices, and more tree species are being added through 2009.
Come and visit the website and join in the live discussion and share your questions and experience with other woodland owners and managers. Feedback on the website and contributions to be published can be sent to [email protected] .
Leave a comment
Subscribe to our blog email updates
Managing Your Woodland for Wildlife
A new book on encouraging biodiversity in your woodland. Available free here »