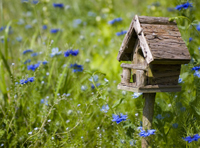 This is fun and useful – a nice project that can involve outdoor and indoor work. It combines interest in birds and with practical use of woodwork skills.
Which birds are your boxes for?
Think about which birds you are likely to attract and build your boxes accordingly. Different designs and strategies are likely to attract different birds – to take one example, a great spotted woodpecker will need a box with a 50mm hole, mounted in a secluded spot at least 3 metres above ground level but also stuffed with an old rotting piece of birch wood. Despite careful plans to attract particular birds, you may still be surprised by which birds actually use the boxes you have made.
Design
There are a number of possible designs such as the small box with a small hole often used for tits or sparrows, the box with the half-open front and the box with a hidden entrance at the top.
An entrance hole of 32mm will allow access to all common small birds but if you cut the size down to 25mm this will give access only to smaller tits and possibly tree sparrows. It doesn't matter too much where the hole is as long as it is at least 120mm (5") above the floor level of the box.
The size of the box should be about as big in cross-section as an adult human hand which suits most birds well and allows you space for cleaning out the box. Too large a space makes a lot of work for the nest-builders in filling it with twigs and moss.
A good design will create a dry box that is not draughty which also has good fixing points for fixing/attaching to a tree.
Depending on the design you may want a door on the side, front or top for inspection and cleaning out each season. This should be hinged. For this you can use either metal hinges or a flap of material such as a small section of damp-proof membrane which is very long lasting (rubber cut out from old inner tubes also works well). If there is an inspection door it should be fixed so that it doesn't blow open and a good catch also helps resist predators. A catch made from wire works well and allows it to be tensioned to give the door a close fit.
I have seen boxes with small perches outside. The danger here is that they can encourage predators (mammals and other birds) and of course this is the reason for using small access holes.
Materials
You can use pieces of wood cut from the woodland, bought-in supplies or salvaged wood. The main thing is to use wood that will last several years and avoid wood that is treated with dangerous materials such as creosote. If you treat the box you should use water based preservatives and only treat the outside.
For fixing the pieces together you can use either nails or screws but obviously screws are stronger.
Siting – avoiding sun and predators
Clear flight path in
Facing away from sun
Drainage is needed to avoid a damp floor in the nestbox
Above the level of predators
You might want to be able to get a ladder near to it for inspections
Maintenance
You may want to clear out the nest at the end of the season which will remove pests and fleas that would be a nuisance to any new nesting birds. It is a good idea to wear gloves for this to avoid putting off future nestbox users – birds have a very good sense of smell.
Putting in bird boxes may seem like a hobby activity but it can also be part of your official woodland management strategy and form part of a woodland grant scheme application. In any event it is worth taking advice from the forestry commission or local county nature trust on the subject.
Two really useful books about nestbox making and installations are:
The BTO Nestbox Guide by Chris du Feu available from the British Trust for Ornithology (www.bto.org);
Bird Boxes and Feeders – 11 step by step woodworking projects – by Stephen Moss and Alan and Gill Bridgewater.
Leave a comment
Subscribe to our blog email updates
Managing Your Woodland for Wildlife
A new book on encouraging biodiversity in your woodland. Available free here »