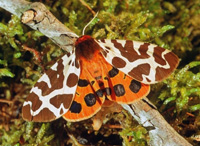 The Moths Count project, run by Butterfly Conservation, is holding a number of events this summer to record national distribution of moths and to raise public awareness. The public are invited to take part in a programme of recording events: all you need is a torch and a pencil to record your findings.
The first of these, the Garden Moths Count, takes place this weekend 22-24 June 2007. Visit the website for information on how to take part and an identification guide. The survey is looking for particular moths (but they also want to know if you don't find them) and these are shown on the survey sheet.
Don't forget to have a look around during the day too. Some moths are active during daylight, and of course look out for caterpillars. The woolly bear caterpillar (garden tiger moth) used to be common, but has been in decline for some time now. My Scottish mother calls these "hairy oobits". Some of the moths are quite exotic – I have seen the Humming-bird Hawk-moth, but in the South of France not in Britain and they really do look like tiny birds.
Results of the count will be published on the website from August 2007.
A celebration of moths and moth recording organised by Atropos (the journal for butterfly, moth and dragonfly enthusiasts) and Butterfly Conservation. August is the best month for moth spotting, with many incomers from Europe and even Africa. Information on what is required can be obtained from the National Moth Night website and a recording form will be available shortly. Why not have a Moth Party in your wood?
Public Events and Training Workshops
If you would like to expand your knowledge of moths, there are events and training workshops available nationwide. Click here for Butterfly Conservation's 2007 programme.
Leave a comment
Subscribe to our blog email updates
Managing Your Woodland for Wildlife
A new book on encouraging biodiversity in your woodland. Available free here »