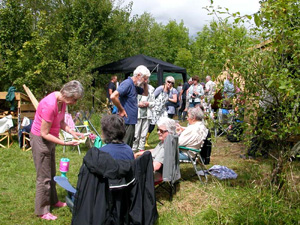 When I told family and friends that I had bought 4.5 acres of woodland in North Devon many of them expressed an interest is seeing it. In August, I therefore arranged an 'open day'. I also invited along the owners of neighbouring areas of woodland.
Guests were encouraged to bring along something to sit on and their own picnics to supplement the barbecue and drinks which I had organised. Shelter was provided by my shed, a couple of gazebos and a tipi. And that other essential, a toilet tent, contained an earth closet.
Having sorted out the essentials: food, drink & shelter, I then needed to think about entertainment. We had live music from Spilt Milk, a talented local duo. A raffle was held in aid of Amnesty International. I also bought a couple of Petron toy crossbows that were used for an archery competition. Not quite Olympic style archery, but the competition was just as intense.
As the day approached and the weather continued unsettled I feared a washout. However, after 24 hours of showery rain the sun came out just in time for the start of the event and it continued to shine all afternoon.
Information about the wood and the trees in it were posted up. The only problem was that with so much recent rain, the lower area of the woodland was rather muddy, which discouraged some visitors from exploring it.
About forty people came, most leaving by around 6pm, but half a dozen of us stayed on to camp. We spent a pleasant evening around the camp fire telling stories and drinking beer.
Leave a comment
Subscribe to our blog email updates
Managing Your Woodland for Wildlife
A new book on encouraging biodiversity in your woodland. Available free here »