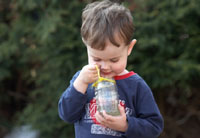 Do We Need Any Special Equipment For Pond Dipping?
No, everything you'll need you'll probably find around the house:
-         wellingtons and waterproofs
-         an old, white ice cream/margarine tub or other flat-bottomed, light-coloured plastic container for studying your finds.  The tiny creatures show up best against a light background.
-         an old kitchen sieve or a net.  A home-made net is fine – the triangular shape of a wire coat hangar fitted with a pair of old tights gives a good flat edge for sweeping along pond bottoms.  Lash on a bamboo cane for further reach.
-         a magnifying glass 
-         a couple of jam jars (of course)  If you haven't got a magnifying glass, water in a jam jar has a pretty good magnifying effect.
-         a white plastic disposable spoon is also good for spooning up your finds and having a closer look
-         some paper or a notebook and pencil to draw/record your finds.  Don't forget to date it, you might want to come back at another time of year.
-         and, of course, a book or an identification sheet so you know what you've found.  There are some good ID pages here: http://www.naturegrid.org.uk/pondexplorer/key.html
 What Are We Looking For?
Good pond dippers have a quiet look around the pond or stream first – not everything interesting is actually in the water.  Look out for creatures that feed at water edges – you might spot a heron fishing, a toad or some dragonflys. The soft mud at the water's edge is also a good place to look for animal footprints.  You might be very lucky if you're by a river and see some otter "spraints", the droppings they mark their territory with.
What you find in the water depends on where you dip.  Is it still water or running water?  Think of the pond or stream as divided into several zones:  water's edge, surface, mid-water and bottom.  And don't forget to turn over a few stones at the edge to check what's underneath! 
Put some pond water in your plastic container.  Sweep gently from the water's surface with your net or jam jar and then tip it into your container.  What have you got?  Have a closer look with your magnifying glass or spoon.  Then sweep again, but along the bottom.  What have you got now?  It may take a moment or two to spot the smaller creatures.
 Put it all back afterwards.
Once you've finished studying your finds, put them back in the water carefully and gently, and treat them at all times with respect.  Also, be sensible about where you do your dipping – stay away from deep water.
Some good "dipping" websites to visit:
http://www.naturegrid.org.uk/pondexplorer/pondexplorer.html
http://www.microscopy-uk.org.uk/index.html?http://www.microscopy-uk.org.uk/ponddip/index.html
http://www.cornwallwildlifetrust.org.uk/educate/pondpack/index.htm
http://www.nationalinsectweek.co.uk/dipping.php (National Insect Week is 23-29 June 2008)
---
Comments are closed for this post.
---