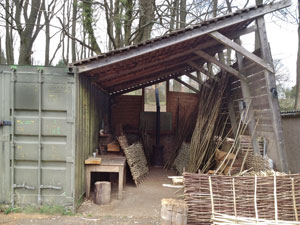 There are two ways of "doing forestry" - traditional forestry works with teams of forestry workers who descend on the plantation, do their work and move on, storing no equipment.   In the other model with smaller scale management a more permanent presence is needed and minor works are done throughout the year, and there is usually a need for somewhere to store equipment.  Such forestry equipment can include tree-planting kit, hand tools, fencing materials and even camping stuff.  What the owner or manager needs is some space that is dry and secure and does not need expensive and potentially damaging foundations.  Many owners wish to manage their woodlands in this way but they need a store and shelter of some sort.  Steel Containers can be the answer.

Containers are readily available through dealers or can be found on websites such as Ebay.  Their dimensions are pretty standard, being 8 ft wide by 20 foot long.  You can occasionally find smaller ones, usually 10 ft long, but the transport costs will be similar for a small container or a larger one.  The advantage of a smaller container is that in a woodland it is much easier to move. If you are buying one for your woodland you will want to look at it before buying to make sure it is not too rusty.  You might even consider buying a new 20 foot container - at about £1,600 for a 20 ft by 8 ft container the cost is only about £10 per square foot.   In planning terms the use is related to forestry and helpful for management so planners are usually fairly sympathetic as long as the container is sited sensitively and not too near to neighbours or highways.  There is a web site with lots of general information on steel containers at www.containers.co.uk.
Camouflaging your container is a great idea for various reasons - it makes it more secure, as it is less visible to thieves, it is less intrusive for neighbours and it generally feels more "in keeping".  The main ways to camouflage a shipping container are siting it where it doesn't stand out and painting it dark green.  Moving these boxes short distances is surprisingly easy - either getting a digger to drag it into position or by using levers and "basic physics"  - a 20ft container weighs about 2 tonnes.  Once in position you can also put some trellis on it and have climbing plants grow over.A container provides an unusually stable structure off which to build other shelters.  For example you can have an awning tied to each of the steel holes at the top ("corner castings").  The picture here - see  featured image above , from the Sustainability Centre in Hampshire shows how a shelter can be put up based on the container structure.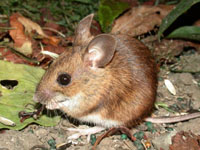 So the container is providing structure but also security - a nice mix of the industrial and the vernacular.   You can also use container roofs to collect water into a water barrel.  Many people jack up the base of their container to protect the underside but this has another advantage - it creates a secure dry space for small woodland mammals to nest.
Comments are closed for this post.
Leave a comment
Subscribe to our blog email updates
Managing Your Woodland for Wildlife
A new book on encouraging biodiversity in your woodland. Available free here »