Sled Dog training in Warleigh Woods.   We were invited by woodlands.co.uk to use Warleigh Woods as a training ground for our teams of Siberian Huskies. An opportunity quite rare to us, as we are normally faced with lots of red tape and battles with the Forestry Commission.
On the May Bank Holiday weekend, we teamed up with some old friends and their pack of 17 huskies, for some serious training.  The first two teams out were Ged (my husband) and his six-dog team of Yashkino Siberian Huskies, closely followed by Elaine with her six-dog Anakusack huskies.
It had been raining on and off most of the morning, and both teams soon found out there was very little braking on the rig (our sled with wheels); as the dogs thundered through the woods covering speeds of up to 20 miles per hour.
We had previously walked the course and left some red markers, GEE -right turn. HAW -left turn.  The trails weren't technical, Haw, Haw, Haw, Haw all the way round. In places Warleigh Woods is probably the best rollercoaster in the world  There were large ruts at the bottom of the woods that need T.L.C. but I think Elaine and Ged were happy - as they slowed their teams right down.  Both teams came in, dogs unharnessed and watered, then it was our turn!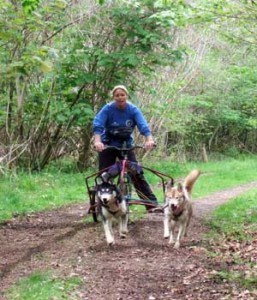 Steve, Elaine's husband and myself both opted to run teams of two dogs! Having far more control, we set off. My two lead dogs, Laska and Yana took every turn they were told, took it steady when asked and worked hard to get me up the hill towards the end of the trail. It was here that I managed a glance all around me. Taking in the extraordinary scenery, ancient woodland, a carpet of the bluest bluebells, the smell of wild garlic filling the air….and Steve's bald head bobbing up and down behind me, running up the hill to help his girls!    Bringing back fond memories of when we competed together in Wales, where we crossed the finish line together in fits of laughter!
Back at the vans, dogs sorted, fed watered and put to bed for the night. It was now time for our Musher's meeting
Leave a comment
Subscribe to our blog email updates
Managing Your Woodland for Wildlife
A new book on encouraging biodiversity in your woodland. Available free here »