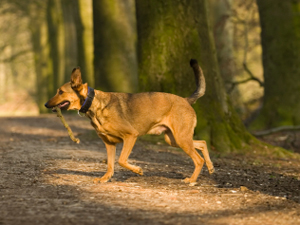 Dog mess has been a long-term problem in woodlands. As dog owners have been forced to clean up after their dogs in parks and streets over the last 15 years or so they have not always been so good at "picking up" in public woodlands or on footpaths in private woodlands. This could be because dog owners don't feel a need to clear up in "the great outdoors" or it could be that some people feel they are not being watched and can "get away with" leaving the dog's doings. A more charitable view is that in woodlands people leave their dogs to roam more widely and dog mess * left without the owner seeing what has been done or indeed exactly where it was done.
Recently several organisations have been working on a half-way house to solve the problem of dog mess in woodlands - stick and flick. The idea is that the one thing that is widely available in woods is sticks and the main objective is to stop people treading in dog mess. So dog-owning visitors to woodlands are encouraged, mostly by signs with rather graphic images, to take a stick and flick the offending deposit into the bushes or undergrowth where it will decay naturally. You use a stick and a flick. Sounds easy, but does it work?
Objectors to the scheme point out that even with "stick and flick" the dog mess is still right next to the footpath where people readily wander off the path and it can also create an unpleasant smell for some time. They also point out that the solution can be rather incomplete and some of the problem remains and people have varied and different ideas about what it means to be totally off the path. Against that, it is surely better to have some wholesome biodegradation rather than what one often sees in woodlands - black dogmess bags thrown into the bushes and hanging there for weeks or even months.
Stick and Flick seems to be endorsed by the Forestry Commission who ask people to use this technique when they visit Delamere Forest Park - they even have a poem about the scheme on their website which concludes with the words, "Find a stick; pick a spot, flick into the bushes so it can rot." They do, however, still ask visitors to pick up properly near the Forest Centre buildings and at the car parks. Other large organisations are following suit and the National Trust at Ashridge in the Chilterns are advocating a stick and flick solution to dog fouling on the footpaths as are the Woodland Trust in some of their Nature reserves.
(*  associated with certain parasitic diseases e.g. http://www.nfus.org.uk/uploadedFiles/Campaigns/Disease%20in%20Livestock.pdf )
Leave a comment
Subscribe to our blog email updates
Managing Your Woodland for Wildlife
A new book on encouraging biodiversity in your woodland. Available free here »